Posted on
PAGING THROUGH H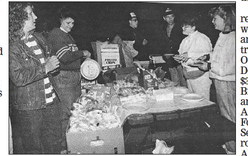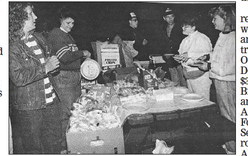 THE TRIBUNE-P HONOGRAPH PUBLISHED IN ABBOTSFORD WEDNESDAY, OCTOBER 17, 1990
Curtiss, Abbyland avert state injunction
The Village of Curtiss and Abbyland Pork Pack have averted a state injunction to shut off the village's sewage treatment plant, and plans for renovating the plant to handle more waste are again moving forward.
Village Atty. Frank Nikolay and Robert Hunter of the Wisconsin Dept. of Justice confi rmed this week that the state's injunction, which would have prevented the village from operating its plant, was set aside after both the Village Board and Abbyland Pork Pack stipulated they would not violate the conditions of the Curtiss wastewater permit.
An injunction hearing, which had been scheduled for Oct. 15 in Stevens Point, was called off.
The village will have to send regular discharge reports to ensure that the permit is not being violated, but it appears that the village may have the modifications to the plant finished by the next discharge period.
Village Engineer Clayton Connell said he had finally received approval of the facilities for the upgrading of the treatment plant. Connell stated four mechanical aeration units are to be installed in the lagoon, along with a grease removal system. With the recent approval of the preliminary plan, he said he can get moving on creating working drawings which contractors can use to figure bids. He said much of that work has been done already, but there is no rush now, because no construction will take place this year.
THE TRIBUNE-P HONOGRAPH PUBLISHED IN ABBOTSFORD WEDNESDAY, OCTOBER 15, 1970
New car for police
The Colby-Abbotsford police commission at a regular meeting Wednesday night, October 7, accepted the low bid of Urban Sales and Service of Neillsville for a new squad car.
The bid on a 1971 Plymouth Fury police special was $2,650 for alternates chosen, with a trade-in of a 1967 Chevrolet now being used as a second car by the police. Other bids received were Town and Country Service, Owen, 1971 Dodge, $3,333.78; Braun Sales and Service, Athens, 1971 Ford, $2,665; Sebold Chevrolet Inc., Abbotsford, 1971 Chevrolet, $2,900; Feddick Ford, 1971 Ford, $2,786, and Merten's Garage, Medford, 1971 Plymouth, $2,860.
Lions join in light bulb sale
Lions clubs in the area are sponsoring their annual light bulb sale Monday night. Clubs in Dorchester, Colby and Abbotsford are coordinating the sales so that they will al be the same night.
Bulbs will be sold in packs of various sizes.
The three clubs will be soliciting door-to-door in their own communities.
Light bulbs have chosen as sales items in this particular fundraising promotion throughout the state. Funds raised got into each club's projects to aid persons with visual handicaps. The state organization supports a summer camp in Rosholt for visually handicapped persons. The clubs will be selling packs of eight bulbs in various sizes at a prize of $2.