Posted on
PAGING THROUGH H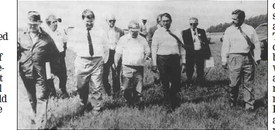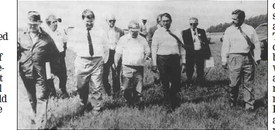 THE TRIBUNE-P HONOGRAPH PUBLISHED IN ABBOTSFORD WEDNESDAY, AUGUST 29, 1990
State has plans for local walleye pond
After a tour of the Winding Creek walleye rearing pond in the Town of Hull last week, Gov. Tommy Thompson said the state might get "more bang for its bucks" if it approves a DNR proposal to expand the rearing capacity of the pond.
DNR officials said an estimated $850,000 worth of improvements at the local site could increase the production of walleye fingerlings there from an annual average of 300,000 to about one million.
Gov. Thompson was accompanied by 69th District Rep. Pink Van Gorden from Neillsville and members of his state staff. Also on hand were DNR offi cials Elmer Simonson, district fisheries supervisor; Elburne Mertz, district fish operations coordinator; and Roy Jacobson, deputy director of the DNR's North Central District. DNR technicians and State Patrol officers were also at the site, along with Colby Mayor Ken Dix, Colby-Abbotsford Police Chief Ron Gosse and Roland Brehm, a nearby resident who is the year-round caretaker of the DNR pond.
Thompson was on a quick tour Aug. 23 of the local facility, as well as walleye hatching and rearing sites at Spooner and Woodruff. Those three were among the sites chosen by a special state study committee as possibilities for increasing the state's production of walleye. Three other sites, however, would require building from scratch, while renovations and improvements at the Town of Hull site and the Spooner and Woodruff sites would not.
THE TRIBUNE-P HONOGRAPH PUBLISHED IN ABBOTSFORD WEDNESDAY, AUGUST 20, 1970
Abbotsford city annexes land
The Abbotsford city council, in a special meeting Tuesday night, Aug. 20, voted for a second time on annexation of property south of the city, this time achieving enough votes to enact the ordinance.
The council had previously voted Aug. 10 on the same action.
This carried by a 5-2 with one alderman missing. However, after the meeting, the council was informed by city attorney Frank Nikolay that a two-thirds vote of the council was needed, rather than two-thirds of the quorum.
In action Thursday night, the council voted unanimously to reconsider the Aug. 10 vote, and this time, the necessary yes votes were recorded.
Voting yes were aldermen Bernard Klinkhammer, John Lindberg, John Bremer, James Schiferl, C.J. Klieforth and Ronald Graffunder. Voting against the annexation were Joe Sebold and Ted Stroinski.
At the Aug. 10 meeting, Alderman Stroinski was not at the meeting, and Aldermen Sebold and Lindberg had cast the opposing votes, with others voting for the action.
The property to be annexed includes land on both side of Highway 13, and to the south of Linden Street, to the first mile road. It also includes parcels of land on North Fifth Street.
The annexation ordinance and the legal description of the land involved are printed on the legal page of today's Tribune-Phonograph.