Posted on
PAGING THROUGH H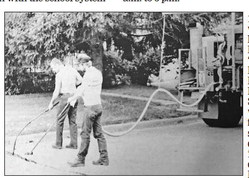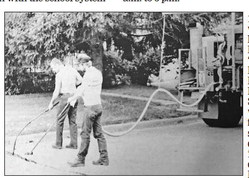 THE TRIBUNE-P HONOGRAPH PUBLISHED IN ABBOTSFORD THURSDAY, JULY 16, 1970
Administrator resigns at Abbotsford school
George Highdudis, administrator of the Abbotsford public schools, submitted his resignation at the regular board meeting Monday night.
He had been with the school system the past six years, and last four as administrator. He plans to go into private business at Oshkosh and will move there with Mrs. Highdudis and their six children at the end of August when his present contract expires.
Ro u t i n e business disposed of by the board of education at the meeting included the approval of invoices with one naye voiced by Jack Nikolay, who voted in opposition to cleaning typewriters every year and recommended this be done every other year.
Police, friends hunt Tuesday evening for little lost boy, 2 The Abbotsford-Colby police department was summoned about 8 o'clock Tuesday evening to search for little Jody Graffunder, 2, who strayed from the farm home of his parents, Mr. and Mrs. Eugene Graffunder. They live two miles north and 3 miles east of Colby.
The little boy had been playing win the yard with his brother, Terry, 12, when Terry went into the house for a drink of water.
Jody, accompanied by the family dog, wandered off. Neighbors aided in the search, and the police were summoned. Six carloads of searchers showed up.
Jody was found at 9 o'clock in a field by a neighbor, Mr. Vernon Westphal. He was crying but unharmed.
THE TRIBUNE-P HONOGRAPH PUBLISHED IN ABBOTSFORD WEDNESDAY, JULY 18, 1990
Cancer Society to hold Jail and Bail
The Clark County Unit of the American Cancer Society will be holding their annual Jail and Bail at the East Town Mall, Wednesday, July 25, from 9 a.m. to 5 p.m. On the 10 most wanted list are Dave "Iceman" Hawks, Hawkeye Dairy Store, wanted for selling drippy ice cream cones; Duane "Slick" Wepfer, Dairyland Realty, wanted for selling swamp land; Bob "Moneybags" Stacke, Security State Bank, wanted for laundering money; Howard "Smiley" Whaples, Anderson-Kreft Insurance, wanted for charging double premiums; Duane "Top Dog Junio" Grube, Abbotsford mayor/Duke's Bowl, wanted for overuse of authority; Jim "Miracle Man" Rebne, Abby Valu-Rite Pharmacy, wanted for dispensing drugs without a license; Sue "Take Charge" Pfalzgraf, Medo Farms Restaurant, wanted for impersonating the mayor; Dr. Paul "Puttin' on The" Writz, Marshfield Clinic Abbotsford Center, wanted for fishing for patients; Dennis "Food Fight" Kramer, Kramer's IGA, wanted for tossing rotten tomatoes, and Dr. Mike "Toothpuller" Weimert, First City Dental Clinic, wanted for excessive drilling.
Persons approached by a "Most Wanted" criminal are encouraged to cooperate. They are armed with pledge forms and a missing to raise $500 for the Clark County unit of the American Cancer Society.