Posted on
PAGING THROUGH H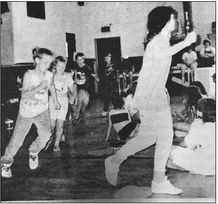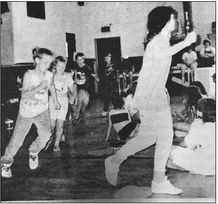 THE TRIBUNE-P HONOGRAPH PUBLISHED IN ABBOTSFORD THURSDAY, JULY 1, 1970
Senior Citizens back 'Write Hanoi'
Colby Senior Citizens are backing "The Forgotten American" letter writing campaign, in which concerned citizens are writing the North Vietnamese in Hanoi, urging them to live up to the rules of the Geneva Conv ention in human treatment of war prisoners, revealing names, free flow of mail and allowing prison camp inspection by a neutral country.
The letter writing campaign is being organized by concerned citizens and coordinated through the Red Cross, according to I.M. Firnstahl, president of the Colby Senior Citizens.
The "Forgotten American" campaign is organized by citizens throughout the country and coordinated through the Red Cross, Mr. Firnstahl pointed out. Letters in the campaign are being sent by individuals and organizations.
The campaign requests that letters ask the president of the Republic of North Vietnam to honor six provisions of the Geneva POW Convention, which are: Prompt identification of prisoners, adequate diet and medical care, communication with other prisoners and their families at home, prompt repatriation of seriously sick or wounded, protection from abuse or reprisals and free access to prisoners and their places of detention by a neutral intermediary.
THE TRIBUNE-P HONOGRAPH PUBLISHED IN ABBOTSFORD WEDNESDAY, JULY 4, 1990
Abby-Colby trail may not include bicycles
The Collaborate 2000 Commission recently received an unexpected recommendation for the building of a bike trail between Colby and Abbotsford.
The commission, which is comprised of council members from both Abbotsford and Colby, met with Mid-American Services (MAPS) associates Gary Peterson and Dick Lindberg last Thursday to discuss the planning of the trail. Peterson began his recommendation stating that bikes sharing the same trail as pedestrians created a hazardous situation. The recommendation Peterson presented proposed building a sidewalk on the east side of Highway 13, and restricting the sidewalk for pedestrians only. The sidewalk would be approximately 2 and 1/10 miles long, and would stretch from Adams Street in Colby to Linden Street in Abbotsford.
Peterson went on to explain that the center turn lane could provide a bike trail, and be designated for left turns and bicycles only. After some mixed reactions, Peterson said that the Department of Transportation would approve of such as bike trail, and that after meeting with experts within MAPS, Peterson concluded that "you've got a dangerous situation putting bikes on the same trail as pedestrians."
DuWayne Olson expressed doubt by responding, "I'm not sure they're much safer in the middle."