Posted on
PAGING THROUGH H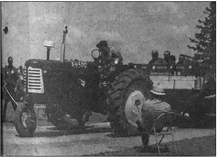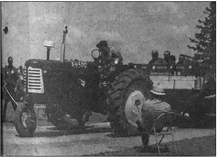 THE TRIBUNE-P HONOGRAPH PUBLISHED IN ABBOTSFORD THURSDAY, JUNE 28, 1970
Brothers take over Dairy Corner
Three Colby brothers have taken over the Dairy Corner of First Street in Colby and have renamed it "The Hornets' Nest."
Formerly operated by Mr. and Mrs. William Frome, it is a soda fountain restaurant combination.
Matt Del Fatti, a high school graduate who plans to attend the university at Marshfield next term; Tony Del Fatti, a local high school junior, and their brother Greg, who had been attending college at Arkadelphia, Ark., are the new proprietors.
Security Bank's 50th Anniversary Fifty years of banking service to the Abbotsford-Colby area has seen the Security State Bank assets grow from $119,078.95 in 1920 to $11,803,195.93 on June 19 of this year.
The bank is marking its golden anniversary by inviting its patrons and others to visit them for souvenirs.
The bank was organized at a meeting on July 25, 1919, and was opened for business June 1, 1920.
On the original board of directors were Ed Brehm, Sr., Albert Bruss, Paul Firnstahl, Louis Frome, A.R. Hemmy, Alfred Herrmann, Herman Neumeister, A.M. Steinwand and Ed O. Witt.
Named as officers were Messrs. Steinwand, Brehm and Hemny as president, vice president and cashier, repsectively.
A merger of the Colby State Bank with the Security bank was effected Dec. 31, 1965.
THE TRIBUNE-P HONOGRAPH PUBLISHED IN ABBOTSFORD WEDNESDAY, JUNE 27, 1990
Curtiss sewage: Department of Justice files suit
Curtiss officials must reply soon to a Dept. of Justice lawsuit charging the village Abbyland Pork Pack Inc. with continued violations of the village's wastewater discharge permit. Meanwhile, a DNR official who is handling the facilities for upgrading at the sewage treatment plant says he has been waiting over two months for information requested from the village engineer, and predicts the project will not be done until 1991. Robert Hunter of the Wisconsin Dept. of Justice acknowledged this week he had filed a complaint against the village and Abbyland in mid-June, and Village Atty. Frank Nikolay said the village was served with the document June 15. The Village Board will have to reply to the complaint by July 7, Nikolay stated, and he said as of Monday he had not conferred with the board on the issue.
Village president Les Bowen said the matter would be handled this week. Following a village reply, Hunter said, a hearing and trial would be held, with the possibility of negotiation also available.
Nikolay did not speculate on the outcome of the legal proceeding, but stated, "In every lawsuit there is always the possibility of a settlement before the trial."
If the parties do not reach a settlement, Hunter said, state law allows a fine of between $10 and $10,000 for each day of violation. DNR engineer Mike Blodgett was the one who referred the case to the Dept. of Justice.