Posted on
PAGING THROUGH H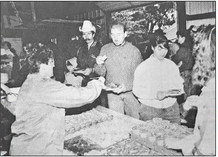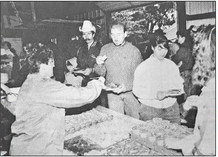 THE TRIBUNE-P HONOGRAPH PUBLISHED IN ABBOTSFORD THURSDAY, JUNE 18, 1970
Bicycle license days
Bicycle licensing for Colby and Abbotsford will go into effect July 1, according to Colby-Abbotsford police chief Albert Podevels, Jr.
Licenses will be issued in Friday afternoon from 1 to 4 at the city hall.
There will be a 50-cent fee for years.
Bicycle owners will be asked information and are asked to have a few facts about their bikes. They should the make and serial number, as well as the make and type.
Reflective tape will be given out at the time of registration.
According to regulations, the bicycle must be mechanically sound. The bicyclist must obey all traffic rules.
According to Chief Podevels, riders should signal for turns and stops, obey all traffic signs and signals, stop signs and crosswalk markings at intersections, and police officers directing traffic, yield the right-of-way to pedestrians, ride alone, only on one bicycle, keep both hands on the handlebars except when signaling, and then one hand.
Ride single file, close to the right side of the street or roadway, make no sudden change of course, keep the bicycle in good condition. At night, be seen. Have a good headlight and a red taillight or reflector.
The Colby Lions and Abbotsford Jaycees will help local police in enforcing the bicycle laws. If the rules are broken, the bike will be impounded.
Parents or guardians may be fined for children's violations, up to $20, according to Chief Podevels.
THE TRIBUNE-P HONOGRAPH PUBLISHED IN ABBOTSFORD WEDNESDAY, JUNE 20, 1990
Police need help in search for body
Suspected murderer Dean Allen will be spending up to 90 days in the Nacogdoches, Texas, jail resisting extradition, and local police are seeking information from the public which might lead to the discovery of the body of Robert D. Pogue.
Allen, 24, is suspected or murdering Pogue in a Colby apartment May 30, then cutting up his body and burying it in four garbage bags somewhere within an hour's drive of Medford.
Pogue, 28, had come to Colby from Nacogdoches late last winter with Dean Allen's wife Janice and her three children. Based on the testimony of informants, as contained in a criminal complaint filed in Marathon County Circuit Court, Allen came to Colby late in May, and he and Pogue argued in the apartment at 304 1/2 Division Street. Reports state Pogue had a machete and Allen had a gun. In a scuffl e, Allen got the machete and allegedly killed Pogue with it. Police feel he and Janice returned to the apartment the next day from a Medford motel, then carted the body back to the motel in the garbage bags. Allen allegedly left the motel for over two hours in the afternoon of May 30 to bury the bags "in a heavily wooded area," the criminal complaint said.
Lt. Elwood Mason, head of Marathon County's detective bureau, said his force is relying on citizen information to narrow down the range of a possible hunt for Pogue's body.
"Without any kind of information, there is no place to begin," he said.