Posted on
PAGING THROUGH H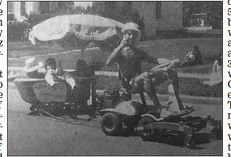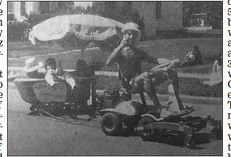 THE TRIBUNE-P HONOGRAPH PUBLISHED IN ABBOTSFORD THURSDAY, JUNE 11, 1970
THE TRIBUNE-P HONOGRAPH PUBLISHED IN ABBOTSFORD WEDNESDAY, JUNE 13, 1990
Dairy Day activities over
Dairy Days for 1970 is history at Abbotsford.
The full schedule of events came to a close Sunday with a parade witnessed by people jamming First Street and Highway 29.
Friday night was the announcement of the new queen of Dairy Days for 1970, an event eagerly awaiting by four active contestants. Wanda Aichele, daughter of Mr. and Mrs. Herbert Aichele, was the top ticket seller to win prizes besides her crown, which included a $1,000 savings bond.
Coronation took place during a dance Friday night at the armory, with music by Howie Sturtz and his orchestra.
The first runner- u p was Sue Hasleton of Withee, second runnerup was Janet Matysik of Athens and third runnerup was Betty Krueger of rural Colby. All three of the runners-up were also given prizes.
Master of ceremonies for the coronation and announcing the candidates placings was John Schermerhorn of WAOW-TV, channel 9. The crown bearer for the ceremony was Dennis Fredine, son of Mr. and Mrs. Daryl Fredine, and the flower girl was Beth Highdudis, daughter of Mr. and Mrs. George Highdudis.
Decorations for the dance were designed and made by Dawn Zirngibl, with the assistance of Jim Polnasnek.
Queen Wanda was given her crown by the retiring queen, Peggy Schlais of Medford. Several other queens from neighboring cities were also present for the ceremony, and the parade.
Police seek murder victim's body
Police have arrested a 24-year-old Texas man and continue to search for the body of Robert E. Pogue, 28, who they believe was murdered and dismembered by the Texan in a city of Colby apartment May 30.
Dean Allen, 24, has been charged with first degree murder following the collection of evidence, including statements made by his estranged wife, Janice Allen, to another person who was interviewed by Marathon County detectives in Texas on June 3. Janice Allen and her three young children, ages 3, 5 and 9, had been living with Pogue in an upstairs apartment at 304-1/2 S. Division St. in Colby for several months. They had met in Texas when Pogue was living there with his wife Ann, and Janice was living with her husband, Dean Allen.
Allen, who was arrested the afternoon of June 9 in Nacogdoches, Texas, is accused of killing Pogue with a machete during an argument in the Colby apartment in the early morning hours of May 30. Janice Allen told the story to another person in Texas, who related the story to Marathon County Detective Wendell Roddy. Information has also been supplied by Colby-Abbotsford Police Chief Ron Gosse and other police reports.
Pogue had been reported missing June 4 by his mother, Shirley Manier of Abbotsford. A meat cutter at Sentry Foods in Abbotsford, he was last seen by his co-workers on May 29, according to police reports.