Posted on
PAGING THROUGH H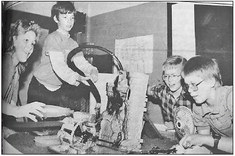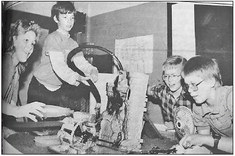 THE TRIBUNE-P HONOGRAPH PUBLISHED IN ABBOTSFORD THURSDAY, APRIL 30, 1970
Colby mayor names two study commissions
Colby city mayor Lloyd Scidmore has appointed two study commissions for long range street planning and an industrial park.
The commissions are to meet and report to the council with their recommendations.
The street planning and study commission is headed by Dr. E.D. Pfefferkorn and A l d e r man Wo o d r o w Tesmer. The five other committeemen are Galen Reinhart, Mike Stieber, Russ Meyer, Milford Frome and Jerry Zygowicz.
This committee has the objective to study, plan and recommend to the council a long range course of action to deal with the city wide street conditions.
Some of the things to be considered by the committee are type of surfacing, the order of work on various streets, length of time for such a project and possible financing. Park planning commissioners are Angus Lamont and Lee Brunker.
The co-chairmen of the industrial committee men are Martin Haavisto, Harley Johnson, Stan Hesgard, Rev. Kenneth Dix, Bud Carylon and Ken Strohkirch.
The commission is given the object by Mayor Scidmore of studying and locating a site for development for the location of business and industry, and to make a report to the council.
Their study guidelines include accessibility, streets and roads, railroad, lay of the land, distance and cost of laying water and sewer and sewer, types of financing and other considerations.
THE TRIBUNE-P HONOGRAPH PUBLISHED IN ABBOTSFORD WEDNESDAY, MAY 9, 1990
New Armory will be dedicated Saturday
1LT Robert L. Schoelzel, commander of Detachment One Company D 724th Engineer Battalion (Combat) announced this week that dedication ceremonies for the newly constructed Abbotsford National Guard Armory, located at 1000 East Elm St., will be held on May 12 at 1 p.m. Following the dedication, guided tours of the new facility will be conducted until 4 p.m. with various displays, including weapons section displays, equipment battle drill demonstrations and camoufl age and ID tag stations for the children. Refreshments will be served all attending.
"On behalf of the members of Detachment One, Company D 724th Engineer Battalion (C), I extend a cordial invitation to the citizens of Abbotsford, Colby and the surrounding communities to attend our armory dedication and open house," 1LT Schoelzel said.
"Because of the outstanding support given by community leaders and others in the Abbotsford area, your hometown Guard unit will now have the kind of facility it needs to attract new members and accelerate its training readiness program in preparation for state and national emergencies," he said.
The new armory replaces the old Abbotsford armory, which was built in 1922 and has been used continuously to train the Abbotsford Guard unit. Primary use of the new armory will be for training and administering Guard personnel, and storing federal and state property issued to the Guard.