Posted on
PAGING THROUGH H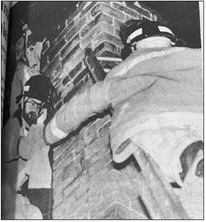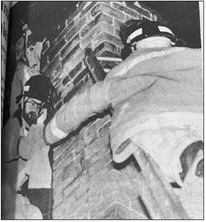 ABBOTSFORD T RIBUNE PUBLISHED IN ABBOTSFORD THURSDAY, MARCH 5, 1970
Two major fires Monday
The Colby fire department answered two calls to major fires Monday night and early Thursday morning.
The first was at Edison Midway Homes, between Abbotsford and Colby, about 11:50 Monday night, where heavy damage occurred to their office building.
The cause of the fire was not known, but it was contained in the center section of the mobile home used as an office. Although the structure was severely damaged by the flames, heat and smoke, records were saved, along with some of the fixtures.
The fire was discovered by Wally Schultz, one of the owners, when he returned from a service call. He broke a window on the door and tried to reach a fire extinguisher but was driven back by the heat. He then went across the highway to the Airport Bar, turned in the alarm, and returned with a fire extinguisher. He was treated for a cut on his hand.
The next call came from 3 a.m. to the John Sheehan farm near Cherokee.
It was reported that about 200 pigs being housed in the barn were destroyed, along with the building and other contents. The cause of the fire has not been determined and was too far along to save any animals.
The Abbotsford fire department was called out on Sunday morning to the Earl Spinhirne home west of Abbotsford. The fire was soon extinguished and the services of the firemen were not required.
THE TRIBUNE-P HONOGRAPH PUBLISHED IN ABBOTSFORD WEDNESDAY, MARCH 7, 1990
Abbotsford firemen douse trio of blazes
Abbotsford firemen answered three emergency calls recently, but none of the blazes resulted in anything more than minor damage.
Dan Freimund of Milan called firefi ghters about 10:15 p.m. Friday, March 2, when he discovered his chimney was blazing. Abby firemen spent two hours at the home knocking burning creosote down a cleanout hole and carting it outside.
Another whistle blew Saturday, March 3, at 1:30 p.m. The blaze occurred at the Eugene Maurer residence on Hwy. 29 just east of Curtiss Corners. An old semi trailer was being cut up with a torch to be sold for scrap, according to Fire Chief Bill Colby. The wheels had been cut off, and the trailer was to be cut in two, but the plywood and insulation were not removed before the torching began. They caught fire and the blaze spread through the trailer in a strong wind. Firemen sprayed a big 2-1/2 inch meter hose on the trailer to knock down the flames, and the scene was secured in about an hour.
At 12:55 p.m. Monday, March 5, firemen were called to the Bob Goldamer house on Hemlock Street in Abbotsford for another chimney fire. It took two hours to get the burning junk knocked down the chimney and disposed of.
Colby reported little or no smoke damage in either of the house fires.