Posted on
PAGING THROUGH H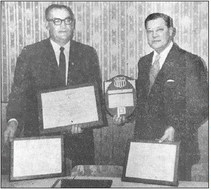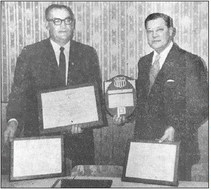 THE TRIBUNE-P HONOGRAPH PUBLISHED IN ABBOTSFORD THURSDAY, FEBRUARY 19, 1970
Snowmobile derby at Curtiss this weekend
A big event for snowmobile enthusiasts and all who like action will be this weekend at Curtiss when the Boom Town Sno-Chasers club sponsors their annual snowmobile derby Saturday and Sunday.
Races are planned both days, and include a 20-mile cross country race, drag races, and lap races on a banked oval track. The crosscountry race is the first event Saturday. Briefing for drivers starts at 9:30 a.m., with the first drivers starting at 10. No pit stops are allowed. After leaving Curtiss, racers follow a route that takes them near Owen, back through Curtiss, near Abbotsford, and back, finishing in Curtiss.
That afternoon, after the cross-country, drag races will be run.
Lap races will be run most of Sunday. Briefing is again at 9:30 a.m. with the elimination races starting at 10 a.m. Seven classes of stock machines will compete with engine sizes ranging up to 700 cc. There are five modified classes, with the largest size at 800 cc.
Junior and powder puff races will be run as part of the cross-country race. Women, however, may compete against the men in the regular races if they wish, providing they pay the full entry fee.
Entry fees are $10 for stock snowmobiles and $15 for modified machines. The entry fee for the powder puff and junior races is $3, with all under age 16 classified as juniors.
THE TRIBUNE-P HONOGRAPH PUBLISHED IN ABBOTSFORD WEDNESDAY, FEBRUARY 21, 1990
Health Care Center cost cutting generates union interest
Proposals to freeze wages and put a cap on health insurance benefits at the Clark County Health Care Center have been derailed, at least temporarily, by a petition to the state for a union vote at the facility near Owen. General Teamsters Local 662 from Eau Claire filed a petition with the Wisconsin Emp loyment Relations Commission (WERC) last week asking for a union representation election at the health care center. A state official said a union election could be held as early as April.
The filing of the petition will prevent the Clark County Board from taking contemplated cost-cutting measures, which were to be discussed at the Thursday, Feb. 22, board meeting. They included the following three recommendations:
_ Set a fixed dollar cap on the county's share of employee health insurance contributions.
_ Prorate the health insurance benefi t for part-time employees based on hours worked as a percentage of fulltime benefits.
_ Freeze wages of those employees who are a level above others in similar positions at other nursing homes in the state and local area.
The county Personnel Committee accepted the first two recommendations recently, but took the third further, proposing a freeze on all anniversary wages pending a county-wide wage study.