Posted on
PAGING THROUGH H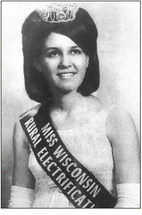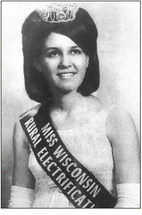 THE TRIBUNE-P HONOGRAPH PUBLISHED IN ABBOTSFORD THURSDAY, JANUARY 29, 1970
To represent state at REA contest
Miss Susan Schraufnagel, daughter of Mr. and Mrs. Alphonse Schraufnagel of rural Colby, will represent Wisconsin in the Miss Rural Electrifi cation contest in Las Vegas, Nev. on Feb. 11.
She earned the right to compete in the national contest when she was named Miss Wisconsin Rural Electrifi cation in Madison last March. Her appearance in Las Vegas is sponsored by the Wisconsin Electric Cooperative association, the state organization for Wisconsin's 30 electric cooperatives.
Scholarship awards for contest winners are $2,500 for first place, $1,000 for second place and $700 for third.
Miss Schraufnagel, who is 21 years old, is a junior at Wisconsin state university, Eau Claire. During her reign as Miss Wisconsin Rural Electrifi cation, she has made many public appearances on behalf of the 400,000 Wisconsin residents who receive their electric power from cooperatives. Her parents are members of the Clark Electric Cooperative, Greenwood.
Colby FFA to sell SMV signs
The Colby chapter of the Future Farmers of America is sponsoring a farm safety campaign, with members selling slow moving vehicle (SMV) signs.
The FFA members will contact area farmers with order blanks. Complete sets or parts of sets can be ordered.
State law requires that SMV signs be displayed on any vehicle that normally travels at speeds of less than 25 miles per hour when they are operated on a highway.
THE TRIBUNE-P HONOGRAPH PUBLISHED IN ABBOTSFORD WEDNESDAY, JANUARY 31, 1990
New EPA regs may affect Abby landfill operations
Abby aldermen were told by a DNR official this week that new EPA regulations may affect the operation of the city landfill and require changes in the plan for capping it when its useful life is over. Mike Miller, DNR waste management specialist in the Wisconsin Rapids office, said the new regulations, anticipated to be published sometime this spring after a two-year delay, are causing the shutdown of "between 90 and 95% of the small landfills in the state." Most of those are town dumps whose owners would not be able to afford the requirements for groundwater monitoring and capping that will appear in the new regulations. Several townships in this area have already closed their sites, or will be closing them before spring.
Abbotsford's landfill is different. It is one of the few DNR-approved, claylined engineered sites in this vicinity. The council see it as an investment (the city spent in the area of $1 million on it) and plans to keep it open as long as possible.
That potential has been enhanced recently with the institution of mandatory recycling in the city. Landfill operator Bill Colby repeated his estimate Monday that recycling has cut down the amount of stuff going into the landfill by about 70%.
The Abby landfill does have groundwater monitoring wells, and leachate collection system which sends any residuals to the sewage treatment plant. However, the new regulations will affect the operation in other areas.