Posted on
PAGING THROUGH H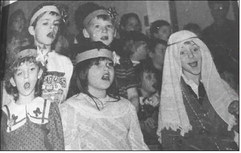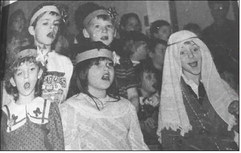 THE TRIBUNE-P HONOGRAPH PUBLISHED IN ABBOTSFORD THURSDAY, JANUARY 8, 1970
Colby charter ordinance
The Colby city council adopted a charter ordinance making the position of clerk-treasurer appointive rather than elective at its regular meeting Tuesday evening, January 6.
The ordinance calls for making the clerk-treasurer's position appointive effective May 1, 1970. The appointment is to be made by the mayor. It is subject to a two-thirds confirmation vote by all council members. The first appointment is to be made on April 7, 1970.
The ordinance also stipulates bases and procedures for removal of an appointed
clerk-treasurer.
New Ford agency opens in Abbotsford
Feddick Ford, Inc. a new Ford agency, began operations in Abbotsford Monday.
Word was received early last week from Ford Motor Company that the franchise for the agency was approved, and plans were made immediately for its opening.
The business is being operated by Dave Feddick of Abbotsford. A full line of Ford Motor Co. products, including cars and trucks, is being sold, as well as used car sales.
Arrangements are also being made for a complete service department. Mr. Feddick reports that interviews are being made for employees now, and the service department is expected to be open by next week.
A grand opening observance is being planned for the near future, Mr. Feddick stated.
THE TRIBUNE-P HONOGRAPH PUBLISHED IN ABBOTSFORD WEDNESDAY, JANUARY 10, 1990
City will take Guard armory
The City of Abbotsford has officially agreed to take over the old National Guard Armory on main street when the local Guard unit moves to its new quarters within the next couple months.
Aldermen passed a resolution to that effect Monday after a brief discussion and the disclosure that a purchaser is waiting in the wings. City att orney Frank N i ko l ay said the council had better decide what is wants to do with the building, which was constructed in 1922 and has been used by the National Guard since then.
There were questions of how much annual maintenance costs would be. Ald. Mel Nikolay, former National Guardsman, said the costs probably run about $4,000 a year.
The property includes the Armory, along with a lot across the alley to the east near the post office, which includes a metal storage shed.
Mayor Duane Grube noted that a purchaser has been waiting, but has not approached the city formally because the city still does not own the building, nor had the council taken any vote on accepting the Armory from the state.
The local National Guard unit, Det. 1, Co. D, 724th Engineer Battalion, has been moving material to the new armory south of East Town Mall. A grand opening will probably be held sometime this spring, a state spokesperson said. The resolution to accept the Armory from the state was passed unanimously.