Posted on
PAGING THROUGH H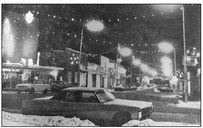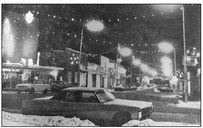 THE TRIBUNE-P HONOGRAPH PUBLISHED IN ABBOTSFORD THURSDAY, DECEMBER 25, 1969
THE TRIBUNE-P HONOGRAPH PUBLISHED IN ABBOTSFORD WEDNESDAY, DECEMBER 27, 1989
Colby to elect mayor, clerk and aldermen
Colby voters will elect a mayor, a clerk-treasurer, and four aldermen at the city election April 7.
Those who terms expire this year include mayor Dr. F.A. Weix and clerk-treasurer Mrs. Myrtle Meacham.
Aldermen whose terms expire are Jacob Beyerl, first ward; Robert Strathman, second ward; and Lawrence Carlyon and Leland Brunker, third ward.
Abbotsford to elect four aldermen The terms of four aldermen on the Abbotsford city council, one from each of the city's four wards, expire this spring. Abbotsford electors will fill the vacancies in the spring election on April 7.
Those whose terms expire include Joe Sebold, first ward; Bud Grube, second ward; Jim Schiferl, third ward; and Delmar Zwirchitz, fourth ward. Terms of officer are two years.
Candidates for these offices have until 5 p.m. on January 27 to file nomination papers with the city clerk, Mrs. James Nikolay.
Unity to elect three trustees
The village of Unity will elect three trustees in the spring election on April 7. Trustees, whose two-year terms expire at that time, include Eric Erickson, Joe Olson and George Weiler.
Candidates will be selected by caucus earlier in the spring.
One trustee to be elected at Curtiss One trustee will be up for election in the spring election in Curtiss. Candidates will be chosen by caucus.
Shier to return as CAP officer
Lenny Shier, former Colby-Abbotsford police officer who left the force to become an Army National Guard recruiter in 1987, has notified the Colby- Abbotsford Police Commission he will return to his officer's position in April of 1990. That is Shier's privilege according to federal law, reported Police Chief Ron Gosse. Persons entering the armed forces are given a four-year grace period in which they can ask for their old position back. They then have 90 days after their departure from the armed forces to claim that job. There is no loss of seniority.
Shier was a Colby-Abbotsford offi cer from 1980 to 1987. Since then he has been a recruiter for the National Guard in the Phillips and Medford areas. His letter to the commission stated that he would return to law enforcement in mid-April of 1990.
Gosse said the commission had been involved in testing and interviewing activities to hire a replacement for Officer Bill Hussong, who resigned two months ago. Shier's communication means the department will be working one person short for six months. The chief said the situation has forced shifting of scheduled and resulted in more oncall time for the men.
Colby library has new books
Now that the holiday rush is over, it's time to stock up on books for cold weather reading. The Colby Public Library has a good selection of best sellers, including "Daddy" by Danielle Steele, "St. Valentine's Night by Andrew Greenley, "The Anastasia Syndrome" by Mary Higgins Clark and "Straight" by Dick Francis.