Posted on
PAGING THROUGH H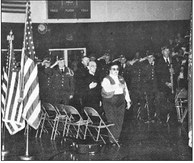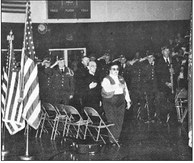 THE TRIBUNE-P HONOGRAPH PUBLISHED IN ABBOTSFORD THURSDAY, NOVEMBER 13, 1969
Frank Beran named top farmer by Jaycees
Frank Beran of Athens was named the outstanding young farmer in the area at the second annual banquet sponsored by the Abbotsford area Jaycees Monday evening, November
10. Beran received a plaque "in recognition of exceptional progress in agriculture and contributions to the community" at the banquet at the House of Dav-Ed. He has farmed a 320 acre farm in the town of Johnson, Marathon County, for 12 years. On the farm are 48 head of dairy cattle and 40 swarms of bees. Mr. and Mrs. Beran have five children.
The other finalists were Lyle Duvall of Colby, Gordon Lynn Jr. of Unity and Thomas Venzke of Athens.
Duvall has been engaged in farming for 13 years. He farms 120 acres on his farm and rent an additional 120 acres. He has 45 head of dairy cattle. Mr. and Mrs. Duvall have three children. Their farm is located in the town of Hull, Marathon County.
Lynn has 11 years of farming experience. He operates a 320 acre farm with 66 head of dairy cattle in the town of Brighton, Marathon County. The Lynns have four children.
Venzke farms a 190 acre farm in the town of Johnson, Marathon County, with 50 head of dairy cattle. He has farmed for 12-1/2 years. Mr. and Mrs. Venzke have five children.
The four finalists were elected from young farmers residing in the Abbotsford and Colby school districts. The young me were evaluated in regards to net worth, increases in value of farm operation, conservation practices, management and community service.
THE TRIBUNE-P HONOGRAPH PUBLISHED IN ABBOTSFORD WEDNESDAY, NOVEMBER 15, 1989
Recycling not profitable, but saving landfill
The Abbotsford Landfill Committee was scheduled to meet with Keith Schwarze this week to discuss the recycling situation, which is being hampered by a lack of profitable markets for the recycled products.
The recycling operation that Schwarze runs in the city building on Fifth Street was up for discussion during 1990 budget considerations at the Nov. 13 council meeting, and it was noted a shredder and baler will be purchased in 1990. That may cost around $20,000.
After more than three months of operation gathering paper, cardboard, plastic, tin, glass and other materials, Schwarze's profit margin is thin if it exists at all. "I don't think he's going to be able to make a profit. The markets have dropped," Olson said.
Added Ald. Bob Morrow, "We're in it whole hog and we're not backing out now. The plastic and cardboard markets have stopped. We might end up paying the man to run it for us."
Mayor Duane Grube wondered why Schwarze didn't have a signed contract with the city. He originally was to operate for three months, and then go over his financial situation with the Landfill Committee before the council agreed to a longer-term deal.
Said Grube, "We have to give the man some time and back him up — a year contract, or even two years."
Even if there is no profitable market for recycled materials, the city is saving valuable space at its landfill. Landfi ll operator Bill Colby estimated the volume coming there has declined by 75% since recycling began.