Posted on
PAGING THROUGH H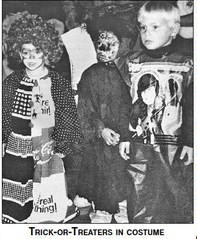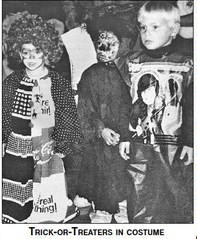 THE TRIBUNE-P HONOGRAPH PUBLISHED IN ABBOTSFORD WEDNESDAY, OCTOBER 30, 1969
THE TRIBUNE-P HONOGRAPH PUBLISHED IN ABBOTSFORD WEDNESDAY, NOVEMBER 1, 1989
Fire damages home Highway opens Nov. 13 An early morning fire Wednesday morning destroyed a garage, well house and chicken coop on the Elmer Lueth farm, route 1, Curtiss, and signifi cantly damaged the house.
The farm is located four miles west of Abbotsford on 29, one mile north and one-fourth mile west.
Twobedrooms, one downstairs and one upstairs, and a bathroom bore the brunt of the damage to the house. Most of the contents of those rooms were destroyed.
Friends and neighbors helped to carry household belongings from the burning house. Most of what was saved came from the kitchen and living room.
The part of the house sustaining the most damage was directly adjacent to the garage, where the fire started. The garage and its contents, including the family's 1963 Oldsmobile, were totally destroyed.
Also totally destroyed was a chicken coop, which contained a lawn mower at the time.
The Abbotsford fire department answered the call and was later assisted by the Dorchester fire department. In addition to putting out the fire, they prevented it from spreading to a nearby barn.
The fire started about 7:30 a.m. in the garage. It was discovered by Mr. Lueth who was returning to the house from milking chores. An attempt to put the fire with hand extinguisher proved unsuccessful.
The long summer for businesses and residents along Hwy. 13 is almost over.
The DOT announced this week it will open the reconstructed portion of Hwy. 13 between Colby and Spencer on Monday, Nov. 13, and ribbon cutting ceremonies are planned the morning of Tuesday, Nov. 14, in Spencer, Unity and Colby. Project engineer Dick Mc Clain said the opening date was originally set for Nov. 6, but weather has delayed the center line stripe painting, and that must be done before the road can be opened for traffic. State crews are also on the job this week erecting traffic signs.
Epoxy paint is used on the center line and passing stripes, and McClain explained it requires as least 40 degrees and dry conditions to be applied. The painting crew is buys in another area of the state, he added, and may not be able to get here, and have favorable weather conditions, before Nov. 6.
If the epoxy paint cannot be applied, another type of paint will be used, but it will have to be replaced with the epoxy striping in spring.
McClain said the final concrete pour on the bridge approach south of Unity was made Tuesday morning. Some concrete apron and curb and gutter work needs t be completed, but he said it would not hold up the highway opening.
Sections of Hwy. 13 on Abbotsford's south side will be replaced in 1990.