Posted on
Friends of Colby Comm. Library holding food sculpture contest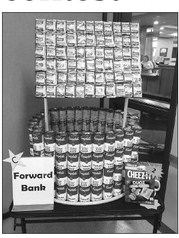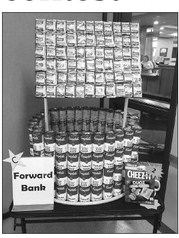 In 2018, the Friends of the Colby Community Library (CCL) hosted "Cansgiving" with 16 superb food sculpture displays in the CCL's Community Room. Over 2,000 food items were donated to the food pantries in Colby and Unity.
While COVID-19 precautions have changed the way the Friends are able to hold the "Foodsgiving" event this year, what has not changed is the need for food at the local food pantries.
All businesses, civic groups, school classes, church groups, and individuals are invited to construct a sculpture from non-perishable food items at their own locations and submit a photo to director@colbypubliclibrary.org by Monday, Nov. 9.
The public is encouraged to vote for their favorite sculpture between Nov. 11-20 by visiting the Colby Community Library in person to view the photos or by voting on the CCL Facebook page.
Builders are responsible for dismantling and taking the food to the CUP Food Pantry in Colby or the Trinity Food Pantry in Unity by Wednesday, Nov. 25. Call Larry or Diane Decker at 715-223-4482 to schedule a drop-off for CUP in Colby or Doug Newman at 715-316-2795 for Trinity drop-off.
Participants are asked to count the number of items used to construct their display when packing up the delivery containers.
The contest is not limited to canned goods; all types of non-perishable food in boxes, bags, bottles, etc. may be used in addition to cans. Remember: Do not use food that is expired. Also, sculptures should be primarily made of food items. Non-food items may be used to stabilize and accessorize sculptures.
Entry forms are due at the Colby Community Library by Monday, Oct. 26. Participant posters are available to place by the sculptures while they are on display. If you have questions, contact the library at 715-223-2000.
"We hope the builders from 2018's Cansgiving participate again this year in our Foodsgiving contest. The sculptures were so creative that first year!" said CCL director Vicky Calmes. "New builders are invited to participate in this fun event which provides food to local families. We look forward to seeing the creativity and generosity of our community in the Foodsgiving sculptures. Look for them on display at various locations in the area."