Posted on
The show must go on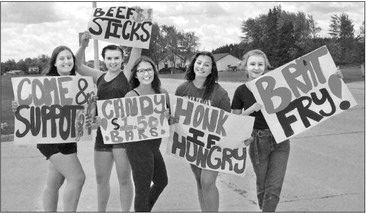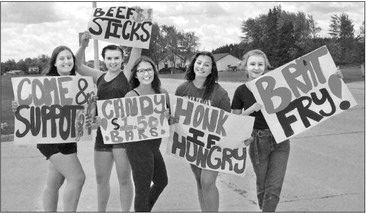 Colby Coalition raises $1,000 with brat fry
The coronaovirus has affected every aspect of students' lives, leading to proms, graduations and sports being cancelled from coast to coast.
The performing arts are no exception, with band and choir concerts and plays being put on hold, or cancelled indefinitely. But, as the old saying goes, the show must go on, and last week over a dozen volunteers — four parents and 10 members of the Colby Coalition — put on a brat fry to raise funds for next year's shows and competitions.
"Today we are trying to raise money for our program to actually have a show this year and to just bring people together and bring some smiles," Coalition member Kaylee Garcia said. "We're trying to raise money for shows and competitions and costumes."
The Coalition has won numerous vocal awards and captions over the past decade. Students from Colby High have travelled all across the state of Wisconsin and to Iowa, Illinois, and even Florida, where they competed in the FAME Nationals in Orlando, placing as seventh runner up.
It's enriched the lives of those students who participate, and also makes Colby that much more special as a community.
"The performing arts is extremely important. It's in the name — it's art," Lia Smith says. "Music and art is important in all our lives and it's enjoyable and it teaches us so much about the world and about ourselves."
But, in order to pull something like the Colby Coalition off, it requires hundreds of hours and dollars. On Thursday, June 11, parents and members of the Coalition hosted a brat fry in the parking lot of Smith Bros. Meats in Colby, and spent hours braving the occasional thunderstorm to raise funds for their love of music, arts and performing.
"We're just trying to raise as much as we can because we weren't able to do much fund raising because of COVID," Coalition member and incoming senior Taya Timm says. "So we are down in profits from that... There's so much that we fund raise for — our costumes, our backgrounds and sets and props and bussing. Everything that we do comes from the fund raising that we do."
There's a great deal of uncertainty in the coming weeks and months, with events continuing to be cancelled, but this year's choir — no matter who will be directing — continues to put in the work and is more than ready to take the stage when they can take the stage once more.
"It hurt so bad to have all our competitions cancelled and to not know when we're going to perform again," Hailey Meyer said. "We're hoping that we can still go to competitions this year and keep doing what we love."
The brat fry raised roughly a thousand dollars, and there are plans to conduct more fund raising events through the summer. The community continues to give to a great cause, and the Coalition is ready to celebrate that generosity with more song and dance.
"Show choir means so much to me. When I'm going through rough times, it's the one thing that's always kept me going and kept my spirits up," Timm says. "I am excited and hopeful we can go and compete and be back bigger and better than last year."