Posted on
Highground starts new website for '20 bike tour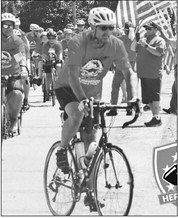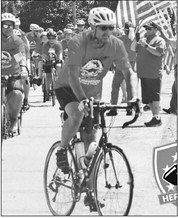 The Heroes Ride Bike Tour, now in its 36th year, is the largest single annual fundraiser for The Highground Veterans Memorial Park. The bike tour takes year-round planning by dedicated route leaders. The leaders and bike riders gather pledges and donations to help raise money. The Bike Tour brings in over $45,000 for The Highground every year.
New for 2020, The Highground has launched a new website to assist participants. Riders can register online, create a peer-to-peer fundraising page, and download their route directly to their device of choice. They can also get turn-by-turn directions over the course of the ride.
"Riders are committed to this event and they give it their all. It was important that we streamline the process and make it easier for the riders' community supporters to participate through rider or event sponsorship," said Meranda Lelonek, event coordinator at The Highground.
Riders can register online at thehighgroundheroesride. com. They can share why they ride, how they became involved in this ride, and more, with their supporters through their peer-topeer page.
This ride encompasses much of Wisconsin with each route being independently. Most routes will start on Friday, July 31, and end on Sunday, Aug. 2, with all routes converging at The Highground.
The Highground is thankful to all the riders who have returned year after year to take part in this amazing event and is also looking forward to seeing new riders join. Riders are invited to contact the route leader for the route they would to join as soon as possible to make planning easier for them. Those who are interested in starting a new route can contact The Highground.
In addition to the fun and camaraderie of a multi-day biking event, each registered rider and SAG personnel will receive a "Welcome Home" lunch at The Highground and a 36th Annual Heroes Ride Bike Tour t-shirt as part of their entry fee.
For questions about the bike tour, call Lelonek at 715-743-4224, send an email to events@thehighground.us, or visit the website at thehighgroundheroesride. com.
For event updates and more, visit The Highground's online event calendar at thehighground.us.