Posted on
Fr. Oudenhoven celebrates 10 years as a priest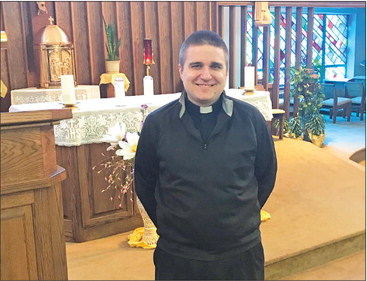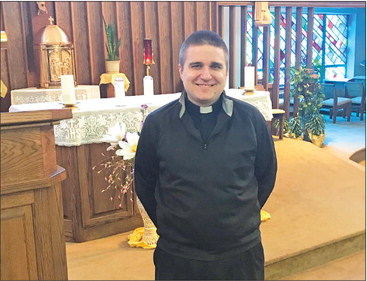 When Fr. Tim Oudenhoven first came to serve at St. Bernard's Catholic Church in Abbotsford in 2011, it wasn't exactly the most pleasant experience.
It was a bit like a rookie quarterback stepping onto the field for the first time during the Super Bowl — and barely knowing how to read the playbook.
The bishop had plucked him out of his student teaching assignment in Chicago, and because he knew just enough Spanish to get by, he was tasked with ministering to Abbotsford's Hispanic congregation.
"It was my first Holy Week as a priest, and it was Palm Sunday weekend," he said. "Basically, it was a trial run that Holy Week, and it was horrific."
"I literally dry-heaved in my car after every Mass," he recalls, laughing about it now. "It was a rough start."
Fr. Tim has come a long way since that "rough start" nine years ago. This Friday, May 29, he will celebrate his 10 year anniversary of becoming a priest.
Fr. Tim was ordained on May 29, 2010, at the Cathedral of St. Joseph the Workman in LaCrosse, with Bishop Listecki presiding. Listecki had already moved to Milwaukee, but he returned just to ordain Fr. Tim and a classmate of his from seminary school, Fr. Paul Hoffman.
Fr. Tim said he trained to be a teaching chaplain and had already started student teaching at a Catholic high school in Chicago when he got a call from the bishop, telling him that a Spanish-speaking priest was needed in Abbotsford.
When he tried to say that he was not, in fact, a fluent Spanish-speaker, the bishop pointed out that he had earned a minor in the language from UW-Stevens Point – eight years earlier.
The bishop also made note of the fact that Fr. Tim had been singing in and directing a Spanish-language choir.
"I said, 'Bishop, it's way different leading a Spanish choir than speaking it fluently,'" he said. Of course, the bishop won the debate, and Fr. Tim was soon on his way to Central Wisconsin to start his new mission.
"That changed everything," he said. "I went from doing youth ministry, high school work and teaching, to being in Hispanic ministry," he said. "That's really propelled me on the journey I've been on these past 10 years, because I've basically been a majority-Hispanic ministry priest until recently."
Fr. Tim, who says Mass every week in both English and Spanish, said he had a decent amount of experience speaking to crowds of 1,200 to 1,400 in Chicago, but never before in Spanish.
He had to learn a lot of Spanish on the job, with help from parishioners.
"I owe a lot to the Hispanic community here, who really did mentor me," he said. "There were a number of key people here who were really good."
He said he also owes a lot to the local English-speaking population as well, as they have made him feel at home here. He also preaches at St. Louis Catholic Church in Dorchester, where he lives.
Though he does not consider himself a "typical" parish priest, Fr. Tim said he fits the role he's been given.
"As a priest, I'm doing exactly what I feel called to do and what I'm meant to do," he said.
Hearing the call early on
Born in LaCrosse, Fr. Tim said he knew early on what he wanted to do with his time on Earth.
"I felt a desire to be a priest my whole life," he said. "My grandmother still talks about when I received my first communion, I looked at her and said 'I want to be a priest some day.' She tells everybody that."
His great-grandmother also had some ideas about his future, though one of them turned out to be wrong. She was convinced he was going to be a girl, so she knitted a pink blankey while he was still in the womb.
When he came into the world as a boy, his great-grandmother changed her prediction and said "He'll be a priest."
"So, I had a pink blankey growing up, but I'm OK," he said, laughing. "I still have it to this day."
TheOudenhovenfamilymovedaround a fair amount when he was growing up, partly because of his dad's job as a junior engineer for a train company. For a few years they lived in Green Bay — where his parents grew up just a few blocks apart — and after that they moved to Peshtigo before settling in Stevens Point.
Fr. Tim said his parents are "very generous" people who taught him and his two siblings the value of altruism.
"Our parents were just always teaching us that we need to be generous, we need to help," he said. "Anytime a neighbor asks for help, you don't dare say no."
Whether it was volunteering for the Knights of Columbus or getting out of the bed in the middle of the night to help someone shovel snow, Fr. Tim said his parents were always promoting the Christian value of service to others.
Instead of taking expensive trips to Disney World or other tourist destinations, he said his family would be happy camping at free WPS campgrounds.
"My dad said 'We have the money, but we choose to help other people,'" he said.
This faith-based upbringing also led his brother, Dan, to become a priest in Eau Claire. (Their sister is married with her own family in Eau Claire).
Fr. Tim said he was lucky to grow up around people with the same values, so by the time he reached adulthood, he already knew the path he wanted to take.
"I really didn't care about my own achievement," he said. "I wanted to help other people. That was my big desire."
Like anyone else, though, Fr. Tim has had obstacles to overcome.
He started suffering from severe migraines and chronic muscular disease in middle school, and those maladies continued to plague him through his high school and college years.
His illness was one reason he didn't join the seminary right after high school; the diocese wouldn't accept him because of his health issues.
"So, I went to college to basically prove myself to the diocese, which just about killed me," he said. "Seeing my vigor, they took me on."
A year after graduating from UW-Stevens Point with an undergraduate degree in computer information systems (and a minor in Spanish, of course), Fr. Tim entered the seminary.
Even though some of his physicians didn't expect him to live past the age of 30, Fr. Tim said he moved past those dire predictions with help from God.
"You hear about these people being miraculously cured by faith?" he said. "I haven't had a migraine in 13 years."
"Some of my doctors now believe in God," he says with a smile.
His chronic illness helped forge his character. He says he still has that drive from when he was sick, but with all the energy of a healthy person.
His motto in seminary school was "priesthood or death," and he's quick to point out that he did not have to pay for his schooling as a priest due to the generosity of others. Feeling blessed himself, Fr. Tim said he wants to pass that on.
"We're happiest when we're making other people happy," he said. "We're most fulfilled when we see other people achieve, and we're part of that."
Filling many roles
Celebrating Mass in two different languages is not easy, but Fr. Tim says it helps that Spanish is a Romance language with roots in Latin — the official language of the Roman Catholic Church.
"It's very easy to teach the faith in Spanish because the words are more similar to Latin," he said. "Where, with English or the Germanic language, things are pretty different."
Besides the language differences, Fr. Tim said Hispanic Catholics follow several traditions that North Americans don't, such as Quinceañera for girls turning 15 and the Presentation of a Child for three-year-olds.
Fr. Tim said he doesn't see it as his place to "force" the white and Hispanic communities together, but he does encourage unity whenever possible.
One example of this is the Knights of Columbus, which started a Spanish-language chapter a couple years ago.
"I am amazed at the camaraderie between the English and the Spanish councils," he said. "To me, that has been one of the most positive signs I've seen in the church thus far."
He said it helps that a couple of key English-speaking people have really embraced the Hispanics in the parish.
Youth ministry is another important part of his duties, as he oversees the outreach to Hispanic youth throughout the LaCrosse diocese. He also runs the Spanish-language section of the Leadership Formation Institute, which helps train up-and-coming faith leaders across the diocese.
Even with all the work he does for the diocese and his home parishes, Fr. Tim still finds time to work on his doctoral studies, which center around the Basilica of Our Lady of Guadalupe in Mexico. He visits the shrine every couple of years and says he is the only U.S, priest who has been allowed to eat a meal at the rectory there.
In January, he plans to return to the holy site for a four-month sabbatical.
Fr. Tim also somehow finds time to indulge a longtime hobby: model railroads. He not only has a 3-D printer to make parts, he also takes two weekends off every year to attend model train shows and regularly participates in online conferences with other enthusiasts, some of whom he has known since childhood.
Like all priests, Fr. Tim doesn't know exactly where he may end up in the future, though right now, he considers this place home.
"Frankly, I really believe that, as a priest, it doesn't matter where you are. God's blessing is going to be there. There's going to be plenty of work to do."
"Does it really matter where we are if we're doing the Lord's work?"