Posted on
Colby couple celebrates 70 years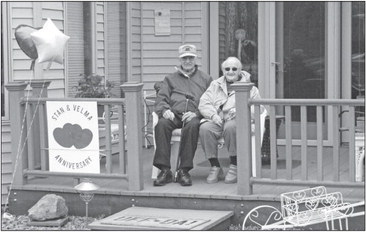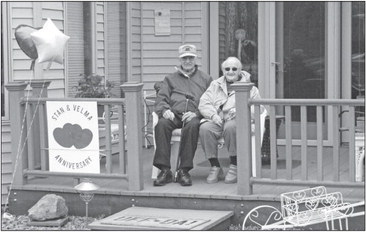 On May 9, the Schultz family gathered for a surprise parade on Community Drive in Colby to celebrate the 70th wedding anniversary of Stanley and Velma Schultz.
A total of 17 vehicles held 55 of the couple's eight children, 20 grandchildren and 30 great-grandchildren and their families. One member of the original wedding party, Doris Zunker of Merrill (Velma's sister) was also there.
The parade was led by an officer from the Colby-Abby Police Department.
Stanley and Velma had been planning a large party before the Safer at Home order was enacted and were disappointed when that had to be canceled. Guests who would have been invited to the celebration were invited instead to send cards or call the couple. Many did so.
Stanley Schultz and Velma Holtz were united in marriage on May 6, 1950, in Wausau. The Schultzes have worked together all of their married life. They started out farming near Wausau until 1971 when they moved near Spencer to continue farming.
In 1979, they moved near Colby where they began weaving rugs together and continued as they moved to Owen in 2011. Stan and Velma moved back to Colby in 2017, where they currently reside in the Colby-Abbotsford Senior Village.
Children of the couple are Karen (Robert) Thell, Merrill; Susan (Robert) Howe, Gone but not Forgotten; Bonnie (Terry) Beyreis, Spencer; Jeffry (Coralee) Schultz, Unity; Russell (Sarah) Schultz, Marshfi eld; Sandra (Robert) Rindfleisch, Spencer; Dennis (Kay) Schultz, Abbotsford and Sara (Randy) Martyn, Edgar.