Posted on
Abby library patrons can stay busy while safe at home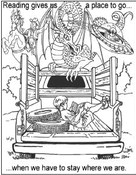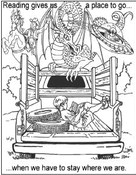 The Abbotsford Public Library's building remains closed, but the library is still offering services and entertainment to patrons who are safer at home.
Individuals without a library card can visit the library's website at www.abbotsfordpl. org/ to sign-up for a digital library card number that can be used to access the library's digital library. If you have forgotten your library card number or have fines on your card, email the director at [email protected] with these or other questions.
Looking for something to do while at home? Did you know you could listen to a story read by an astronaut living on the International Space Station or virtually visit George Washington's home?
Check out the Abbotsford Public Library's website for these virtual experiences and more; all compiled together in one easy stop, www.abbotsfordpl.org/ stuck-at-home/. The list was put together by the Thorp Public Library and shared to other libraries in the Wisconsin Valley Library Service.
This list of "Stuck at Home" free online offerings includes virtual field trips and museum tours, free art classes, coloring pages, stroytimes by favorite children authors, live zoo cams, and much more.
For boredom-busting ideas for parents with kids at home, you can also watch library director Jenny Jochimsen live on the library's Facebook account on Tuesdays and Thursdays at 10:30 a.m.
The library will be holding its monthly adult craft night virtually this Thursday, April 16, at 6:30 p.m. Check the library's Facebook page www. facebook.com/AbbotsfordPublicLibrary/ for further information.
Gale Courses are still being provided by the WVLS for free adult continuing education. Gale Courses provide hundreds of engaging, instructor-led discussions on topics to develop your professional skills or personal passions. You'll find classes covering topics ranging from the Microsoft Office and Adobe suite of products, to digital photography, languages, business skills, grant writing, and even cooking. Grab your library card to enroll in the next six-week session at no cost, via education. gale.com/l-wvalley/. The library staff would also like the public to join them for a library coloring contest. As adult and youth library patrons have been asked to stay at home; the Abbotsford Public Library would like to remind you that reading can give you a place to go, even when we have to stay where we are. Visit www.abbotsfordpl. org/safeathomecoloringcontest, download the coloring page, print out the page, color it in however you like and return your entry to the APL. Entries can be scanned and sent to the library's email at [email protected] or sent in the mail to Abbotsford Library, P.O. Box 506, Abbotsford WI 54405.
On the back of the coloring page, be sure to include your name and age, plus a phone number or e-mail address so that winners may be notified. All masterpieces will be put on display at the library's Facebook page. One coloring sheet from each age level will be chosen as the winner and will receive a library gift basket filled with some cool prizes.
Entries will be judged on April 30, on the basis of creativity, neatness, and use of color. Age categories are: 1-3, 4-6, 7-9, 10-12, and ages 13 and up, (adults too). Only one entry per person. Prizes will be awarded on May 1 or postponed to a later date if Safer at Home is still in effect.
Decisions are at the discretion of the Abbotsford Public Library and are subject to change at any time. Winners will be notified by email or phone. The library staff looks forward to seeing your art.
As of right now, there are no estimates on the library's reopen date or what procedures will be like when the library reopens. Updates to the library's status will be made on the library website and Facebook page.
"The library staff misses our patrons and wishes you all the best during these times," Jochimsen said.