Posted on
Groomer upgrade will take Forest Springs trails to a new level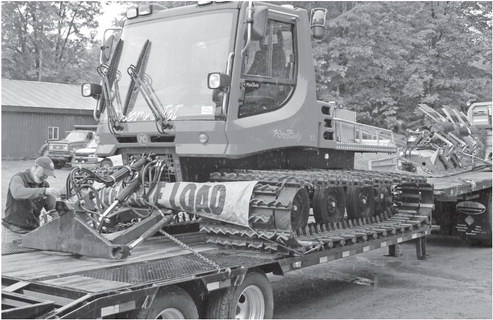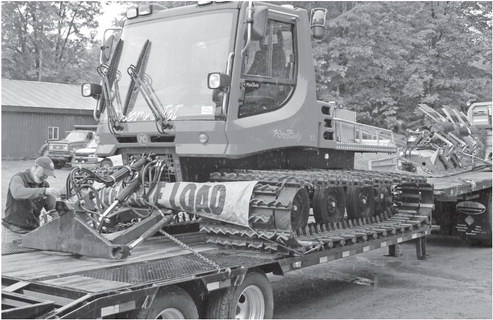 Christmas arrived early for staff at Forest Springs Camp and Conference Center and, if the temperature had been about 15 degrees cooler on Sept. 9, there might have even been snow to mark the occasion.
The buzz on that rainy afternoon was produced by the arrival of a 2007 Pisten Bully 100 groomer to be used on the nearly 20 kilometers of cross country ski trails that criss-cross the property located just east of Westboro and north of Rib Lake along Rustic Road.
Forest Springs was able to obtain the groomer by amazingly raising about $94,000 in just a few short months. It was purchased from the state's biggest name in Nordic skiing, the American Birkebeiner Ski Foundation in Hayward.
"This was my second contact," Norm Hoyt, director of Educational Ministries at Forest Springs said about his search for an upgrade. Hoyt is also a Nordic skiing enthusiast. "The first contact was a ski place up in Ironwood called Active Backwoods Retreat (ABR). They had another machine up there, but it was much newer than this one and the price was up there. So when I contacted the Birkie, at first Ben Popp (executive director) at the Birkie said, 'no we don't have a machine for sale.' Then about a week later, he called me back and said, 'no actually we do.' He told me because he knows, he said, 'this is what you need, if you can raise the funds for it.'" The decision to make a run at buying the groomer was made in late January and the final dollars pushed the fundraising drive over its goal in mid-August. Within a month, Forest Springs had 70% of the money needed. Donations came from locals as well as friends of the camp from as far away as Dallas, Texas.
"It was a huge fund raising thing that happened between now and then and it was right in the middle of COVID," Hoyt said. "I see it as a blessing from God. At first it was a little scary to go for this. I thought, 'how are we going to do it?' But the people that we contacted were excited about it. About three weeks ago, we got the last dollar in, which actually took us over the top, actually $94,000 that had come in from all over the country. Not even just Wisconsin. We had people from all over the country that love Forest Springs and here it is."
The excitement of having the groomer is two-fold. One is Pisten Bully groomers are regarded as highquality machines and the other is the time it will save trail groomers in the winter months as the camp aims to continue to provide a top-notch local skiing experience.
"Finally, we have a machine here that is made to groom the trails that we have," Hoyt said. "One of the biggest benefits is a single pass groom. Typically in the past, Scott Everson would have to groom three times, 19 to 25K three times. This is single-pass grooming. They actually showed us that if there's 3 feet of snow, this machine doesn't care. It just will groom. That was difficult for us before.
"It has a tiller and a triple track setter so we can set tracks right, left and center depending on what we're trying to do," Hoyt added. "The tiller actually can freshen up old snow. We've never been able to do that before. As for the trails, it's just a much better track to ski on with this machine. Most skiers know that Pisten Bully grooming is really just the cat's meow. It's the best you can get."
The trails at Forest Springs are just one part of one of northern Wisconsin's most expansive cross country skiing systems. A connector trail links the system at Forest Springs with the 30 kilometers of trails that are maintained by the Rib Lake Ski and Snowshoe Club.
"I think that's cool for the community to know that we have all the intention in the world to keep grooming the connector trail that's in the school forest where we connect with the Rib Lake trail," Hoyt said. "The community can still ski the Rib Lake trails and come right into Forest Springs. We're definitely going to continue that."
All of these trails are open to free use by the public when there is snow on the ground during the winter months. Forest Springs is now the home of the annual Hinder Binder Ski Race, which is held each January and will typically bring in at least a couple hundred skiers from all over Wisconsin and beyond. The 2021 race is scheduled for Jan. 16.
While COVID-19 meant significantly fewer camps offered and visitors to Forest Springs this spring and early summer, it also freed up staff to put in significantly more hours into trail improvement. All trails are now 14 feet wide. Some small sections of the Hinder Binder route were change to reduce confusion.
"We've done more work this summer than all the years combined up until now," Hoyt said.
The Forest Springs section of trails is known for its hills, but Hoyt said there are plenty of stretches tailored to beginners. Snowshoe trails weave in and out of the ski trail system as well. When they arrive in winter, trail users are asked to park in the camp's main parking lot and not on Rustic Road.
"In a normal year, they're skied every day," Hoyt said. "With friends that we have that are Taylor County people, there are some people that are pretty much skiing every day. The trails are open for use all the time. We prefer people don't ski at night because that's a little risky. People just need to check in at the main office. There's no fee.
"The Forest Springs trails are fun because they're a little bit like a roller coaster," he added. "Up and down, up and down, corners. There's not a lot of straight skiing. We do have beginner trails, there's plenty of beginner trails but we also have trails that are challenging for experienced skiers. One of our trails is called Roller Coaster. Across the road, there's Skidder and Jammer because there's always been logging over there. There are pretty big hills over there. But there are plenty of beginner level trails. They're all in the woods. Not very many of our trails are out in the open. They're all in the woods and just beautiful trails."
Staff will also be encouraging trail use during Forest Springs' popular Community Days, which are held each Sunday from 1 to 5 p.m. on the property during January and February. For small fees, the public is able to use the camp's skiing, snowboarding and tubing hills. Cross country ski and snowshoe trail use are free and snacks, drinks and a game room are available in the warming area of Neale Lodge.
"I think it just takes us to a whole new level that our programs here and the community will appreciate this," Hoyt said. "For grooming, now you don't have to get all bundled up. Scott Everson would have to have his Norwegian baclava on out in the snow. Now you can groom with a T-shirt on. Sometimes Scott would probably spend up to seven, eight hours grooming on a big snow. Now we can be done in an hour and a half."