Posted on
Baiters to open Wisconsin's bear hunt on Wednesday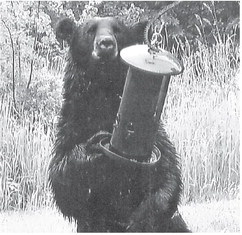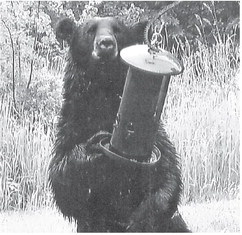 Wisconsin's annual black bear hunting season opens Wednesday, Sept. 9 with hunters using bait or any legal methods not using dogs getting the first crack at harvesting a bear during the season's first week in northern management zones.
Land in Taylor County north of Hwy 64 is part of Zone A, while land south of Hwy 64 is in Zone C for the 2020 hunt.
In Zone C, the hunting season runs from Sept. 9 through Oct. 13 with all legal methods not using dogs. In Zone A, as well as northern zones B to the east and D to the west, the season is broken down into three segments. Sept. 9-15 is reserved for hunters using all legal methods not using dogs. Sept. 16 through Oct. 6 is open to hunters using all legal methods, including bait and dogs. Oct. 7-13 is reserved for hunters using dogs only.
"Bear hunters have plenty to look forward to with the 2020 bear hunting season," Randy Johnson, the DNR's new large carnivore specialist said in the DNR's 2020 Bear Fall Forecast. "Wisconsin's bear population remains healthy, with bear densities in excess of one bear per square mile in many areas of their primary range across the state. Wisconsin also has an abundance of public land, much of it concentrated in primary bear range, meaning plenty of opportunities to find a quality place to hunt. Interest in bear hunting continues to be very strong, with demand for harvest permits far exceeding supply."
A statewide total of 11,535 harvest authorizations were issued for 2020, nearly identical to 2019's total of 11,595. There were 119,436 applicants for 2020 authorizations. There were 1,410 permits issued this year in Zone A and 6,570 issued in Zone C, which covers the southern two-thirds of the state.
Wisconsin bear hunters killed 3,679 black bears during the 2019 season for an overall success rate of 31.7%. The harvest was 1% lower than the 2018 kill of 3,717 bears. The 2019 kill was comprised of 52% males and 48% females. Harvest during the first two weeks of the season accounted for 65% of the total bears harvested.
Most bears were taken in Zone D (1,175) followed by Zones A (946), C (900) and B (658). A kill-by-county breakdown was not included in the DNR's 2019 harvest report, but 125 bears were killed in Taylor County in 2018. The 2019 overall harvest was the 11th-highest bear harvest in Wisconsin since the inception of bear registration in 1957. The prior 10 years have provided the state with the 10 highest bear harvest totals.
In 2019, the number of bears taken over bait alone (2,260) was greater than the number shot over dogs (1,314, includes bear shot over dogs and bait). Eightyone bears were taken without the use of dogs or bait. Gun hunters took 3,243 bears, while archers killed 261 and 151 bears were killed with a crossbow. Chippewa hunters killed 24 bears in 2019, down eight from 2018.
Success rates were 56% in Zone A, 51% in Zone B, 47% in Zone D and 14% in Zone C.
There are no significant changes in rules for the 2020 hunt. There will, however, be two new hunting zones in 2021. Zone E will cover the west-central part of the state, while Zone F will cover most of eastern and southern Wisconsin. Zone C will be significantly reduced to cover only the center of the state and a small portion of northeast Wisconsin.
Registration of a bear is mandatory. Successful hunters must electronically register bears they harvest, in the county of kill or in an adjoining county, by 5 p.m. the day after recovery.
A bear can be registered in one of three ways:
_ Go to gamereg.wi.gov (fastest and easiest method).
_ Call 844-426-3734 (844-GAME-REG).
_ Visit an in-person station. Go to dnr.wi.gov and search "registration stations" to find a list.
Once registration is complete, the GameReg system will issue a confirmation number for the hunter's records. Once the bear is registered, keep the carcass tag with the meat until all meat has been consumed.
Like last year, all successful hunters must submit two premolar teeth to the DNR in addition to reporting the bear's sex and harvest location. One tooth is used to determine the bear's age, the other is used for a genetic sample. Bear teeth form rings as they grow, just like trees. The first tooth is sent to a lab to read the rings and determine the bear's age at harvest. This is one way to ensure the long-term health and sustainability of Wisconsin's black bear population.
Last year, DNR biologists set over 800 bear hair snares across Wisconsin with the help of federal and tribal partners. The DNA in each hair sample will be used with DNA from the second tooth to calculate a bear population estimate statewide and by zone.