Posted on
Arts education continues to be important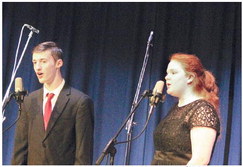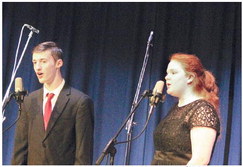 On September 11, 2001, terrorists crashed planes into the World Trade Center in New York, the Pentagon in Washington, D.C. and a fourth plane was brought down in rural Pennsylvania. In reaction, U.S. air space was closed and all flights grounded. This resulted in nearly 7,000 airline passengers forced to land in Gander, Newfoundland until air space reopened.
While those incidents are sharp memories for many adults, for high school students, many of whom were born a half a decade or more after those events, they are ancient history up there with the moon landing and the Wright Brothers flight.
During last weekend's Red/White Spotlight show, Medford choir students sang "Welcome to the Rock" from the musical "Come From Away" which was written about those events. Through the power of music and song and dance, what had been just an historical footnote in a textbook came alive.
The ability of the arts to broaden understanding and appreciation of cultures and histories as well as promoting civic engagement are core reasons why arts need to continue to play an important role in all levels of education.
The selection was just one of many songs and skits that showcased the talents of these young performers and which challenged them to go outside their comfort zones and rise to the challenge and take the spotlight.
Putting yourself out there on center stage is a terrifying aspect to many people, regardless of age. The arts give an opportunity for people to break out of their introverted technological bubbles and emphasize other areas of social and emotional development. Young people involved in music and theater are able to find their voice and the confidence to stand up and be heard.
These same skills will come into play later in life when, as adults, these individuals are called on to a leadership position in their workplace or become involved in their community.
Beyond this, the arts have the ability to bring people together in a shared experience. This was true for the hundreds who shared in one of the four Red/White Spotlight performances last weekend or who came and enjoyed a community dinner and celebration of music at the Rib Lake Showcase on March 10.
Tight budgets have become the standard for schools in Wisconsin and across the country. In times of fiscal belt-tightening there are those who would look at the arts as being "extras" and not essential to the education of students.
This type of thinking is short-sighted. The arts remain vitally important to the education of today's young people and to communities as a whole.
The students who performed in Rib Lake and Medford in recent weeks demonstrated the importance of the arts in education and well-represented their schools and communities. Community members must do their part and ensure the arts continue to be priority in education.