Posted on
Grass on the Black music festival is a great addition to area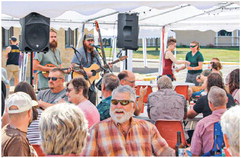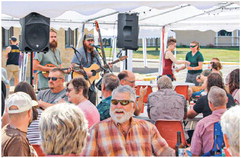 Bluegrass? That's that hillbilly music with the banjos, acoustic guitars and mandolins, right?
When Marilyn Frank and the other organizers of "Grass on the Black" first announced their idea to hold a two-day bluegrass music festival in Medford, there were plenty of people unsure about its potential for success and asking those questions.
Through her persistence and obvious passion for this distinctly American-born musical style, Frank quickly collected converts who were at least willing to give it a try.
Her passion spilled over onto others who saw the potential for what the event could eventually become. Frank also found allies at City Hall, with city officials being proactive in working with the festival organizers to close streets and be a partner in making the event possible. It is refreshing to see the city administration willing to work with groups wanting to hold events, rather than appearing to work against them by building bureaucratic barriers as it has in the past.
Organizers were also able to pull together broad support from the business community willing to help with the gamble that a festival for such a niche type of music would be a success.
The gamble paid off. Hundreds of people, including a sizable number of visitors from outside the area, came to Medford over the weekend to listen to a dozen different performers playing at eight local venues over the two day festival.
While it is tricky to attempt to count the number of attendees that spread throughout Main Street, Whelen Ave. and other sites, wherever music was playing there were crowds of smiling faces and people swaying along with the melodies. More importantly, beverage sales were brisk and by late afternoon food vendors at the festival reported they were close to running out of food to sell.
Grass on the Black's inaugural success has cemented the festival as a summertime draw to the community and one which will grow for years to come. Organizers have already announced plans for the festival to return in July 2023 and are busy lining up performers to make it bigger and better.
The event's success this year shows that a music festival based in downtown Medford and spreading through the community can be a benefit to the community. For those hesitant about jumping on the bandwagon, the successful event shows the potential that exists within the community.
Frank and all the organizers of Grass on the Black should be commended for their hard work and efforts over recent months in putting this party together. The challenge is for others to come forward to help grow this event to make it not only a premier event of the Medford area summer season but a regional draw to bring travelers into the area and spend time and money here.
Congratulations on a job well done.