Posted on
Did you have a good time last weekend?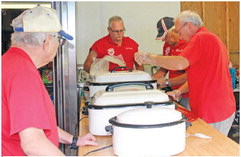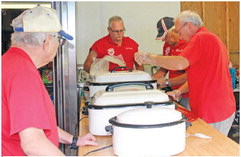 Weren't the fireworks great? And how about those brats and burgers, or are you more of a snow cone and popcorn fan? Did you enjoy the music, dancing and those family games?
If you are like most people, chances are you spent some portion of this past 4th of July holiday weekend attending one of the many scheduled activities. Communities throughout the region celebrated the 4th of July with picnics, parades, truck and tractor pulls, free concerts, magic shows, games and performances. Even the periodic rain showers couldn't dampen the generally high spirits of attendees.
Parks and festival grounds were crowded with eventgoers seeking to have a good time and celebrate the 246th anniversary of the independence of the United States of America.
These celebrations do not spontaneously happen. Nor do the brats, burgers and popcorn cook themselves. It took volunteers working throughout the year to book the bands and performers, make sure pulling tracks were prepared, and work with sponsors to make sure costs were covered.
If you took a look at those staffing the stands, you found familiar faces. When not wearing a Lion's vest, Kiwanis cap, veteran's organization uniform or firefi ghter's shirt, they are out in the community on a constant basis. They are the ones helping to install the new playground equipment or working with local governments to make crossing busy roads safer for children and families and putting in countless hours behind the scenes to make our communities better places to live, work and play.
Service is what they do in their spare time. In their day jobs they are business owners, managers, bankers, doctors, lawyers, retirees and people from all walks of life. It is a sure bet that many of those workers had better places to be then sweating over a grill full of brats, dragging a heavy tarp to protect the pulling track or dealing with the logistics of band performers and juggling politicians in the parade line-up. It is also these volunteers who were there long before the first crowd member to help with set up and were there long after revelers left doing the clean-up and putting away.
Remember the volunteers and the work they put in when you post to social media about what you feel was lacking or what they "should have done better." Armchair event organizers are a dime a dozen. It takes real leadership to serve on an organizing committee or to sacrifice you own holiday weekend to help your neighbors and community visitors have a good time.
If you see these individuals, thank them for their efforts and also thank the businesses who contribute to make these events possible. Think of them the next time you are quick to run down the highway to a bigger city to save a dime on a purchase.
Give the volunteers and sponsors your thanks and, whenever possible, your business and consider pitching in and joining one of the many service clubs and organizations.