Posted on
Success is building in Medford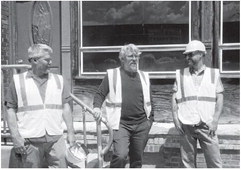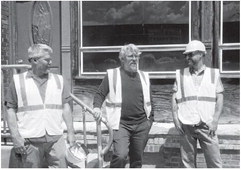 Success breeds success.
The sentiment behind that statement is as old as Aristotle, but is as equally true today as it was in ancient Greece.
That statement especially rings true in the Medford community these days as city business and community leaders gathered to mark two new beginnings in the downtown.
On Monday, community leaders joined Doug, John and Luke Gasek to officially kick off the renovation to the long-vacant Brucker Building located at the corner of Main Street and Division Street. If things go according to plan, by sometime this fall the once derelict building will be reborn as a downtown destination serving wine and cheese and selling books while adding much needed apartment space.
On Wednesday, community leaders gathered for a ribbon cutting marking a new beginning for a downtown professional building as the new home of Borealis Wellness Clinic and Aurora Community Clinic. The expanded space will offer greater opportunity to serve the health needs of patients from throughout the area. The entire downtown will benefit from the increased traffic of patients utilizing these services.
These celebrations of success did not happen in a vacuum. They are part of a growing wave of growth that has been seen in the area, spurred by renewed civic and community commitment to keeping the Medford area strong and growing.
For many years the city of Medford has had the slogan of "Making Futures Bright" — three words with a lot of promise and optimism. At times the community found it challenging to deliver on that promise. The city has renewed its partnership with economic development, business and community leaders and is actively engaged in helping bright futures take place rather than erecting roadblocks to hinder growth.
Both of the business expansions celebrated this week will leave lasting impacts on the face of the Medford community for decades to come. The bigger reason to celebrate, however, is that these are not isolated success stories, but part of a larger wave that has been steadily building to bring up the entire community. While there will be challenges ahead, there is much to be optimistic about and the future is indeed bright.