Posted on
Looking back on 2021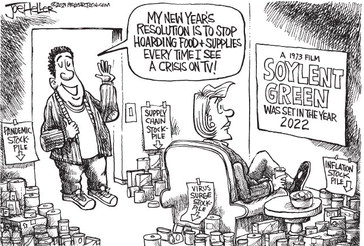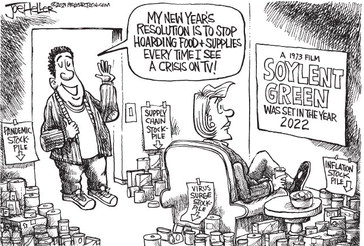 In the annual march of the seasons, 2021 is swiftly coming to an end and 2022 is about to begin.
It is no mistake that the ancient Roman god Janus looks both backward and forward.
Any journey forward is shaped by the road taken to reach this point. Each week, The Star News editorials seek to bring attention to issues and efforts, causes and concerns, all of which shape where we have been as a community and where we may be headed.
As with past years, looking over the more than 100 editorials written in 2021, there are clear themes that emerge. These are topics that come back with regularity, some of which have reached resolution, while others continue to draw headlines and discussion.
COVID-19
When it comes to looking back over the past year, it is impossible to ignore the impact of the ongoing COVID-19 pandemic.
The Star News ran 425 articles and opinion pieces last year where COVID-19 was referenced in some manner. Among these were public health warnings about the need to follow good practices of social distancing, information about vaccine availability and treatments as well as many news articles about local government reaction to the ever-changing pandemic. There were heartwarming stories from survivors and somber warnings of those who lost their battle to the disease.
COVID-19 touched every aspect of public life in 2021, from the lengthy debates about the merits of forcing students to wear masks in schools last winter and spring, to the cautious steps taken by event organizers in the spring and summer looking to bring things back to some semblance of normal.
There are many, through an abundance of caution or concern over their or a loved one's health, who have had their lives upended by the pandemic. This year we shared stories of people who rely on antibody treatments in order to maintain their immune systems in normal times and the need for people who have the COVID antibodies to make a point to donate blood to help them and others.
While many worked in a survival mode in 2021 others thrived. They faced the ongoing challenge of the pandemic and brought in new or reinvented established events to give the community and region periods of much-needed respite.
The Medford Area Chamber of Commerce was one of these organizations with their numerous events this year highlighted by the roaring return of Parkfest with headliner performer Chris Kroeze that drew thousands of people to the city park. The Chamber's Old Fashioned Christmas celebration over the Thanksgiving weekend likewise reinvigorated the annual lighting of the lights with a fireworks show that set a high bar for others to follow.
While there was legitimate concern about the potential for any large community gathering to become a super spreader event, the region managed to avoid nightmare scenarios largely due to individuals showing personal responsibility and staying home when they were sick or had been exposed through close contact.
Personal responsibility has been at the heart of the region's ongoing response to the pandemic. The vaccines are there. Medical providers have grown hoarse in repeating the common sense precautions to reduce infection risks. As it has throughout the pandemic, it remains up to individuals to listen to the advice of experts and medical providers and take action.
Education
Partly tied into the response of schools to COVID-19, education remained a major theme on The Star News editorial pages over the past year.
The Medford School District's efforts to prepare the high school for its next half century of useful life was a recurring topic. The high school is in need of overhaul in regard to its technology infrastructure as well as its basic climate control systems. Its science and technology classrooms are a generation out of date and not set up to provide educational spaces to teach the skills needed in modern workplaces. The building was built in an era before security or student confidentiality were major concerns. These points are well agreed upon by the hundreds of residents who filled out surveys and attended listening sessions. However, the referendum went down in flames, largely due to the attachment of new gym and theater spaces, what many in the community saw as being "extras" rather than needs.
Beyond the building concerns, area school boards also weathered waves of politically-charged attacks in the past year as partisan issues at state and national levels were brought to local nonpartisan boards.
Gamesmanship
Just as partisan politics was brought to the school board meetings, political gamesmanship continued to permeate state government.
Assembly majority leader Robin Vos continued his game of gotcha-last with Gov. Tony Evers as the legislature advanced round after round of ill-considered legislation and ignored easy opportunities to compromise knowing full well that the governor would veto them. This was done with the sole intention to generate content for election campaign ads and to keep the base riled up and the money flowing.
The Star News editorial pages urged leadership rather than gamesmanship. At the same time, praising local legislators for taking the action needed to get things done without playing political games. The legislators were urged to take up efforts to help keep the paper making infrastructure strong so that local loggers will have markets for their timber products and bring more local control back to communities to make real decisions rather than having mama Madison calling all the shots.
At the state level, The Star News has urged for the state to look to alternatives to the fuel tax as electric, hybrid and other increasingly fuel efficient vehicles enter the driving fleet. The Star News has also called for reform to increase government accountability to expose the misdeeds of those who abuse their positions as well as calling for reform of the probation system to reflect the severity of crimes and for increasing the accountability of private utility subcontractors who damage homes and public infrastructure with their projects.
Housing
A major issue in Taylor County throughout the past year has been the needtobringmoreworkerstothecommunities. Labor shortages, which have been demographically decades in the making, have driven unemployment rates well below full employment levels throughout much of the state. Taylor County, whose manufacturing businesses never flagged during the pandemic, has keenly felt this shortage. At the same time, particularly in the Medford area, access to housing to attract working age families has been a challenge. The city of Medford and the Medford Area Development Foundation have taken a leadership role in bringing additional housing options to Medford. This was recently celebrated with the announcement of a new 64-unit complex to be built on city-owned land on Pep's Drive. It is only fitting that the complex, which will serve as a new beginning for many future Medford residents, will be located on a road named after the person who spearheaded Medford's industrial success for many years.
Access to housing has also played out at the county level with the still unresolved status of a proposed homeless shelter. Initially celebrated as a success story and an example of county and city government working cooperatively to meet a need, things turned sour with the county board unilaterally pulling grant funding from the shelter organization because of concern over the cost of renovations to the building that had been purchased. In recent weeks new options and funding sources have been proposed which promises to bring the much-needed shelter into reality.
Among these themes, the editorial pages of The Star News joined in celebrating the successes of area residents as well as joining with them in mourning tragedies and remembering sacrifices. The past year, like most years, has been a mixed bag with lessons to be learned at all levels. As we look forward to the new year, we as a community and as a state must take the lessons to heart and fulfill the state's motto to move "Forward."