Posted on
Memorial Day is more than speeches, ceremonies and barbecues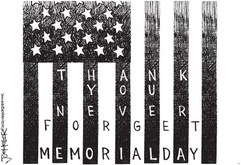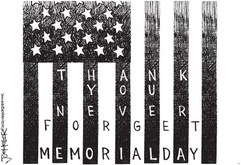 Alex Abramowicz, Melvin Baughmann, Lee Clendenning, Leroy Cwiklam John Cypher, Joseph Kaczmarczyk, Kenneth Mc Guire, Don Johnson, Fredrick Royce. . .
The roll call of Taylor County's dozens of fallen sons is a solemn reminder that freedoms purchased with the blood, sweat and tears of servicemen and women are not to be taken lightly, nor given away without a fight.
Each year on the last Monday in May, Americans gather at cemeteries and monuments. Politicians read speeches. Students share essays written about patriotism. Bands play patriotic songs. Wreaths are laid. Bugles are blown and volleys of shots are fired in salute.
Through it all, the names of each community's fallen heroes are repeated so the memory of their sacrifice and devotion does not fade with the passage of time. Memorial Day is a day for honoring those who died in military service to their country.
Since the national holiday falls on a three day weekend at the end of May, it has also become the unofficial start of the summer season and a chance for people to gather with friends and families, pull out their grills and celebrate.
This year Memorial Day will be different than in the past. Due to the COVID-19 pandemic many of the ceremonies that are typically held have been canceled or postponed. With the risk that COVID-19 poses, particularly to older individuals, scaling back services shows an abundance of caution and common sense.
The ceremonies that will be held will be smaller and more intimate, but equally as meaningful.
Memorial Day is not about the size of the crowd nor how stirring the speeches are. It is about remembering those who suffered untimely deaths in service to a great cause. It is about honoring the memories of the fallen and the ever-present grief felt by their loved ones even decades later.
While it may not be possible to attend a ceremony in your own community this year, take time to keep alive the memories of those who define patriotism. Visit a cemetery and take time to pause by the graves of veterans.
At your backyard barbecue or while working to get your cabin open for the summer, pause for a few minutes of silent reflection at the sacrifices made so that America could stand strong.
The freedoms enjoyed today were paid for by the loyal volunteers of Wisconsin who mustered at Camp Randall where the Badgers now play, but who never made it back to their homes and loved ones. It was bought by the doughboys of World War I in the famous Red Arrow Division who fell in the trenches of France. It was purchased on every atoll and island in the Pacific and every inch of gained ground in Europe in World War II. Freedom was paid for in the jungles of Vietnam, the mountains of Korea and Afghanistan, the deserts of Iraq and the hundreds of other places where American servicemen and women fought and died.
Remember the roll call of the dozens of Taylor County servicemen who, in the words of Abraham Lincoln, gave "the last full measure of devotion."