Posted on
Volunteers needed at the Medford Area Senior High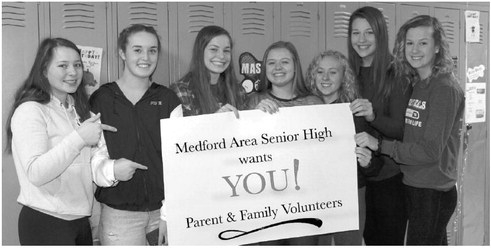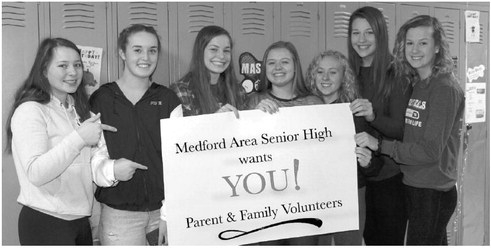 Get involved and make a difference by being a Raider Ambassador
Medford Area Senior High (MASH) is excited to announce the Raider Ambassador program. Starting second semester MASH is inviting volunteers into school to serve as monitors and ambassadors for our school and community. Volunteers can play an instrumental role in improving school safety and climate by volunteering for one hour a week. During this hour Raider Ambassadors will serve as an extra presence in the halls and commons areas at MASH. Ambassadors will be another set of eyes and ears for the schools by talking with staff and students, monitoring exterior doors, checking hall passes, assisting visitors, and being another positive adult presence in our school.
Similar programs have popped up around the country and are more common at elementary level schools. So often at the high school level parent involvement centers around fundraising and parent advisory groups such as booster clubs. We want to change that by getting our community more involved with the high school. The goal is to have volunteers engage in our school by enhancing our school climate and showing students how valued they are by their community. We are also hoping our ambassadors will share with the community the many amazing things they see happening at MASH.
IfyouareinterestedinbecomingaRaiderAmbassador complete the volunteer paperwork, background check, and attend an orientation prior to starting as a Raider Ambassador. All ambassadors must be at least 21 years old. The volunteer paperwork can be found on our school website in the family section under community or picked up in the school's main office. Ambassadors must commit to one hour a week that fits into their personal schedules. Each week, ambassadors report to the main office at the beginning of their assigned hour. All Ambassadors will be provided with a t-shirt identifying them as a volunteer, an ID, and a twoway radio. Please consider volunteering for this important opportunity to further connect our school, students, parents and the community in a very positive way! To sign up or to learn more information about being a Raider Ambassador contact principal Jill Lybert at 715-748-5951 or email [email protected] This information is also posted on our website at https://www.medford. k12.wi.us/schools/senior/.
— Jill Lybert, MASH principal
School corner