Posted on
Championship event brings top bull riders, barrel racers to Medford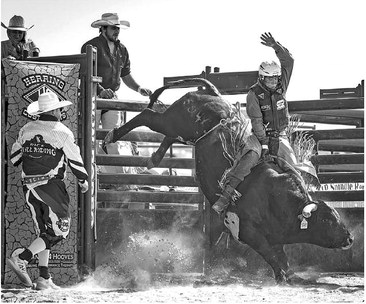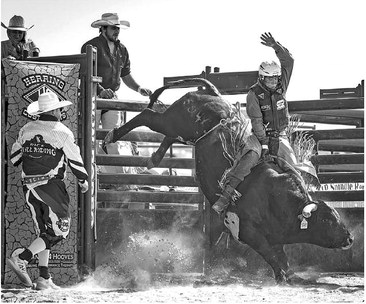 In the end there can be only one champion.
On September 22 and 23 spectators at the Rice Ranch and Event Center will have the opportunity to see the top 15 bull riders and barrel racers compete in the 2023 tour finals.
Rice Ranch and Event Center is located on Hwy 64 about five miles west of the city of Medford. Gates open for the event at 4 p.m. with the action starting at 7 p.m. Following the show at about 9 p.m., there will be an after-party with the Wisconsin State Country Band Champions "Ember."
According to Dave Rice, of Rice Bull Riding, the series finals is a culmination of a season-long competition through the midwest. Each year, Rice Bull Riding puts on about 30 events in five states. Bull riders and barrel racers competing at those events earn series points with the top 15 advancing to the finals.
"Fans will be able to see the best of the best," Rice said, noting that among those competing with be six-time champion bull rider Ueberson Duarte of Brazil. He will be joined by bull riding powerhouse Pedro Fonseca, also from Brazil and other top bull riders from around the country.
Rice said competition is heated in the series and the full field of competitors won't be finalized until after events this weekend. Each bull rider will have two rides in the evening on different bulls. Rice noted featured bulls at the event will include Reddy Red and Painted Moon which are national-caliber bulls. In addition there will be several other Professional Bull Rider Championshipcaliber bulls in the arena. "People can expect fast-paced, bone crushing action," Rice said.
On the barrel racing side, fans will have the opportunity to cheer on a local competitor, Sherri Wright from Gilman who will be vying for the barrel racing championship.
Rice promises the evening will be packed with fun for all ages starting with pyrotechnics and fire along with entertainer Coy "Okie" Thomas of Oklahoma. Coy "Okie" Thomas was selected for 2022 Bull Riders Inc National Finals, Oklahoma, he was the 2022 International Finals Rodeo Champion Barrel man and the 2022 National top 5 comedy act CCRA. He has performed at Disney World and in Branson, MO and his hometown is Bixby, OK.
There will also be special kids events during the show.
Professional Rodeo/Bull Riding announcer Caleb Claybrook will be announcing the championship competition. In 2022 he was selected to announce Bull Riders Inc National Finals in Oklahoma and announced Minnesota Rodeo Association Finals. He is a two time Mini Bull Riders National Finals Announcer. In 2020 he was the announcer for the WPRA finals and in 2018 was the announcer for Danger Zone World Finals. He is originally from Highlandville, Mo. and now resides in Oologah, OK.
Spectators will have the option for food from several vendors and the full bar. Rice said feedback from the more than 2,000 people who attended the successful rodeo held in June was to have more food vendors and they in response are bringing in many more options.
After the bull riding and barrel racing action, there will be an after party featuring the band Ember.
Popular on the upper-Midwest casino and festival scene, Ember has cultivated their signature style by creating forward-thinking pop rock country music influenced by their vast experience performing dance-driven renditions of popular rock and country hits. They will be performing from 9 p.m. to midnight.
Tickets may be purchased for the event at a discount online through Stubwire or at the gate the weekend of the event.
Additional information is available online at ricebullridingcompany.com.