Posted on
RVA student Claire Goeldner earns perfect ACT score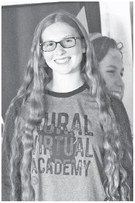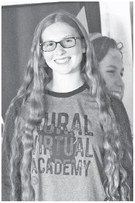 Each year about 1.5 million students take the ACT.
Of those 1.5 million students, only about 4,000, (about three tenths of one percent), of them receive a perfect score.
Claire Goeldner, 16, of Alma is one of that elite group scoring better than 99.7% of her peers on the standardized tests which are used to measure academic achievement in many college admission processes.
For the past six years Claire has been a student with the Rural Virtual Academy, a virtual charter school operated by the Medford Area Public School District in partnership with a consortium of districts throughout the state. The RVA has more than 2,000 students across all grade levels around the state and beyond.
While most people her age would be sophomores, Claire, is considered in 11th grade. One of the strengths of the RVA is that it allows students the opportunity to progress at their pace, meaning that students such as Claire are able to take more advanced classes. Through the Start College Now program with the Wisconsin Technical College System, Claire has been busy taking mostly college-level classes. Her only high school level class this year was an AP Statistics class. She took the AP test last week, and says she thinks she did "OK" on it. Next year she plans to take AP Calculus. Most of her academics this year have been college-level courses and she will soon complete her first year of an IT Software Development program at Northcentral Technical College. She is on course that by the time she graduates in May 2024 it will be with both a high school diploma from the RVA and an Associates Degree from NTC.
RVA administrator Charlie Heckel explained that while typically schools would only allow up to 18 college credits through the Start College Now program, he went to both the RVA board and the Medford School Board to get permission to exceed that amount and allow Claire to complete her associates degree. "The RVA has never done anything at the bare minimum," Heckel said.
While completing classes, Claire stays busy, working full time through a youth apprenticeship program at the Bank of Alma. "She is a busy girl," said, Andrea Goeldner, Claire's mother.
The perfect ACT score came on Claire's second time taking it. In December she took it the first time in order to have scores in time to submit for a scholarship application. She score a 34 at that time, placing her in the top 99 percentile of all the students who took the test.
She took it the second time as part of the mandatory assessment testing required by the state of all high school juniors. Going into it, she said she knew she had nothing to lose, since the ACT goes with the highest score.
"She came out of it saying 'I feel pretty good,'" her mother said.
Her brother took the test on the same day and got his score a few weeks later, a 31, placing him in the 94th percentile among all students and nothing at all to complain about.
Claire was kept waiting, however, and waiting. She would check her email three to four times a day to see if the score was in. Finally, on her 16th birthday she received an email that her score was in — 36, perfect straight across the board.
"She gets mail every day," Andrea said. From her first score she was getting a lot of mail from college recruiters and with the perfect score the volume of mail has increased. "This week it was MIT, she has also gotten letters from Harvard and Yale," Andrea said.
Andrea praised the RVA, noting that if Claire had gone to a traditional brick and mortar school in her home community she would have never had the opportunities to take advanced classes or to do work around the family's schedule. Andrea explained they like to travel with the family traveling to five countries and 47 different states.
"It was great, it really made my afternoon," Claire said of getting word of the perfect score. She said she had been expecting to do well and hoped to have a 35 because it would be an increase to her score.
She explained that the ACT allows for "super scoring" where people take the test multiple times and the test records the best score from each part each time it is taken. "Her's were 36 straight across," Andrea said.
For the future, Claire said she would like to pursue a four year degree in the same field as she is studying for her two-year degree. She said she is not certain about what college or job she would like to pursue in the future.
When not working, hitting the books, or traveling with her family, Claire said she likes to read. Claire plays the flute and went to state solo and ensemble this year in two areas. She also enjoys dance and playing volleyball.
"She is not great at volleyball," Andrea said, noting that as a parent she felt that it was a good thing that Claire could use having to work at volleyball for character development. She noted that it is good to have something you struggle with that makes you want to persevere.
In addition to her brother, she has three younger sisters, Phoebe, age 12, Violet, age 8, and Daphne age 7. Her father Matthew works at the power plant near Alma.