Posted on
Making up time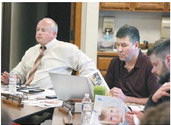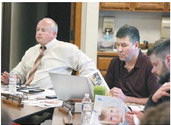 Medford board forgives snow days for this year, sets plan for future years
The Medford School Board is drawing a line in the snow when it comes to bad weather days.
In response to staff requests to increase the number of snow days that will be forgiven without having to be made up, board members at Monday night's school board meeting committed to meeting the minimum number of minutes of education required by the state and that if they were in danger of not, then administrator Pat Sullivan would bring it to the board with a plan on how to make up the time.
While board member Brian Hallgren had called for an absolute guarantee that the year would not go beyond Memorial Day weekend, even if it meant the potential of a lengthy increase in the school day or having school on a Saturday, other board members were unwilling to rule out going after Memorial Day in especially snowy years.
Typically the schools see between See MEDFORD on page 4 three and five snow days per year. Sullivan said the most he has seen was 11 snow days several years ago. So far this school year, the district has had five snow days. Sullivan noted that they have enough minutes of instruction to cover six days worth of snow days and still meet the state requirements.
Sullivan said he favored a plan to forgive up to the six days to avoid the need to come back after Memorial Day weekend. He also noted that he often gets teachers who complain about not getting paid for work they do in preparing for the school year in August. He noted he could answer the teachers' complaints by noting they get paid for snow days.
One of the things that makes the snow day discussion confusing is that while most people talk about school days, the state actually measures instructional minutes. The district has the option to make incremental increases in the school day to allow more flexibility in its schedule. This was done earlier this year with the increase of minutes for Stetsonville Elementary School.
It took a few tries before board members could come to an agreement on how to proceed. The first motion would meet the state required minutes (meaning it would allow up to six snow days) and after that point Sullivan would be empowered to make changes to the school day to meet the required number going past Memorial Day without any additional board action. That failed on a 5-4 vote.
Board member Don Everhard expressed concern about waiting until six days, noting that was over a week. He suggested going to five days and then making it up after that to have some cushion.
Board member Steve Deml noted the goal was to avoid having to meet and discuss it for a half hour just to tell Sullivan to add minutes. He also expressed concern with setting too firm an ending date noting that he feels the school days are already long enough. "I don't want to leave it open ended," he said, asking the board to think of being a Kindergarten teacher and suddenly the day is an hour longer.
"I feel we are really tying their hands," Deml said of efforts to eliminate the option of making up snow days after Memorial Day.
"You call it tying their hands. I call it extreme motivation," said board president Dave Fleegel.
One of the biggest concerns with going after Memorial Day is with the quality of education students would be receiving those days. It was noted that it would have to be top-down in all the buildings that the time needed to be used for education.
In the end, board members voted 6-3 to a plan to allow up to the equivalent of six snow days and to have Sullivan bring options to the board for action if it comes to that. This may include, if early enough in the season, changing what had been scheduled days off to school days.
Sullivan also noted that while the schools may not be full if they had to go after Memorial Day, there would be a few hundred students in each of the buildings especially at the elementary levels.
Transportation contract
Despite calls by Hallgren to go back to the bargaining table, board members approved a new one-year contract for district transportation with Krug Bus Service.
The contract includes a 7.25% increase on the base rate for transportation and an increase of $200 on the amount to be paid to the bus service on days when school is called off due to weather.
The district had built a 6% increase into the school budget and the increase is about $17,000 more than what was budgeted while the overall increase is about $100,000 over the current contract. Sullivan said he was confident they would be able to find that elsewhere in the budget or that it would need to come from fund balance.
The transportation committee had negotiated the contract with committee member John Zuleger noting what was being brought to the board was the halfway mark between the district and the bus service. "We would have loved to see a two-to-three year contract but that was not entertained by Krug's," Zuleger said.
"We have a history of letting the committees do the work and approving what they bring to us," Hallgren said. However, he said in this instance they needed to go back and do more work.
"This is not a good contract for the district," he said. He said the two things that stood out to him were the increase, on top of the 5% increase last year, and that it is a one-year agreement.
He emphasized that his objection is nothing personal against the company or its owners, praising the work they have done with the district. He said that while costs have gone up, there are variables in the existing contract that allow the company to adjust prices to meet those costs. He also said he would like to see a multi-year contract. Hallgren also referenced the age of the business owners asking what their plans were for the future. "What is the game plan here," he said, noting there is a provision in the contract which allows the company to pay a fee and walk away.
Deml, who chaired the transportation committee disagreed saying that he didn't think they would be able to reach a multi-year deal with anything that Hallgren or the board would find palatable for future years.
Barb Krug of Krug Bus Service, said she would love a five-year contract but that they cannot go multi-year until the economy settles. She also cited the unknown level of government regulations.
In the end board members voted 7 to 1 to approve the contract as presented with Hallgren opposed and Aemis Balsis abstaining.
Funeral leave changes
School staff will be able to attend the funeral of a nonimmediate family member without having to use personal or sick leave time. After a lengthy discussion board members approved the change in response to a staff request to expand the funeral leave. Each year Sullivan holds meetings with staff in the buildings to ask for any changes they would like him to bring to the board.
This year both the support staff and the teachers brought requests to expand funeral leave. Support staff requested adding extended relatives including uncles, aunts, nieces, nephews and cousins to the list of relatives the district provides paid funeral leave with no limit. The teacher's request was to have an additional paid funeral day to be able to attend the funeral of a non-immediate family member. This would include such things as neighbors, coworkers or friends.
Currently the district allows staff members to use personal or sick leave to attend the funerals. Support staff get nine sick days each year with others getting 12 days a year. In addition, support staff get 1 personal day and teachers get two personal days per year with the ability to bank a number of them.
Board member Don Everhard said he felt the district provided the staff with a number of sick days and that it would not create a hardship for staff to use those days. He expressed concern that with the number of blended families the number of extended family could get out of hand. He also noted there is a real issue with the district getting substitutes for staff when they are not there.
Sullivan noted that when looking at potential changes, he did not support the support staff request because it was open-ended about the number of days that could be taken over the year. He supported the teacher request as the one to adopt for the entire district because it limited the increase to one additional day.
It was noted that the district will allow staff to use sick leave time down to 15 minute increments, which for an in-town funeral could allow someone to leave and go to the service and return.
In other business board members:
  Received an update on staffing and section needs for the coming school year. The biggest change will be in the Pre-K program as the school switches from a two day a week program to every day. Principal Dan Miller said they currently have 54 students signed up for Pre-K with 15 signed up for Stetsonville Elementary School and the remainder at Medford Area Elementary School. He said they are looking at a June 30 date for finalizing the number of classes needed. Other building administrators reported that staffing levels and student enrollment per section were projected to remain stable next year.
  Approved pay increases for district support staff and teachers for the coming year. Support staff positions will see a 50 cent per hour wage increase per cell of their pay grid. With the base increase and the longevity raise they will see an increase of about 80 cents per hour, which comes to about a 5.5% overall increase. Teachers will see a salary increase of $1,000 per year on each cell which combined with longevity increases will see teachers going up $2,100 next year. This amounts to about a 4% overall raise. Sullivan noted the CPI is currently at about 8%. Under the plan, new teachers will be hired at the same salary as second year teachers in order to be competitive for recruiting staff.
  Approved spending about $13,200 per year on a program to purchase term life insurance for all school district employees which will provide a $25,000 benefit to the surviving beneficiary. To qualify, staff members have to work at least 17.5 hours per week.