Posted on
Talking trucks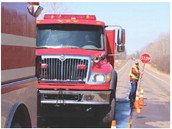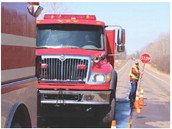 Fire commission eyes new tender truck for Medford department
Members of the Medford Area Fire Commission are laying the groundwork for the purchase of a new tender truck in 2025.
At the March 15 fire commission meeting, assistant chief Mike Radlinger presented a proposal to purchase a new tender vehicle which would primarily supply water to fire scenes. The fire commission rotates vehicles on a roughly 30year cycle. The new truck would replace No. 304 which is from 1994.
The new tender would have a carrying capacity of about 2,500 gallons, compared to 2,000 gallons on the older vehicle. In addition, the new vehicle would have design items to make it easier for crew members to access equipment.
Radlinger noted that from the time it is ordered, manufacturers are estimating a 14 month lead time for construction with some going out further due to a shortage of chassis to build on.
See FIRE on page 4 The vehicle will be built on a Freightliner chassis with a 450 HP Cummins diesel engine. The vehicle as designed will be 345 inches long (28.75 feet) and have a 193 inch wheel base.
The new truck has a projected cost of about $380,000. They are currently working with a vendor to put together a design and specifications which will then be bid out to vendors.
Radlinger explained the proposed vehicle is about the largest they can go for capacity with a single rear axle vehicle. When commission members asked about going with a larger dual-axle option, it was noted that there is a balance between size of the firefighting vehicles and the ability to access rural driveways and get to fire scenes.
"We are eating tires up with blacktop," said fire chief Mike Filas, noting that getting in and out of tight areas is taking a lot of time and wear on the equipment.
Each year, the municipalities in the fire district set aside money for a future truck purchase. Currently the commission has $368,440 with the remainder of this year's and 2024s payments to be made. The next step in the process will be for the commission members to bring the proposal back to their municipal boards for any questions with formal action at the June quarterly meeting to approve going out for prices to other vendors at that time with the commission to review and potentially approve a bid at the August meeting when the budget is set. This timeline would allow the department to get the new vehicle in fall 2025.
While typically, as one vehicle is added another would leave, chief Filas asked commission members to consider allowing the department to keep No. 304 in the fleet as a secondary tender. He said his goal is to have 10,000 gallons of water on wheels in the fleet.
"10,000 gallons doesn't last us long," he said, noting that it gives a good knockdown on a fire with an initial attack but the tenders will have to bring water to a fire scene to allow them to keep up prolonged firefighting efforts.
Committee members noted previous sales of used equipment have been low and as long as the existing tender still runs, can carry water and there is room for it in the fire hall, it makes sense to keep it in use.
"It would be worth more to have it here," said Stan Schmidt of the town of Medford.
Commission chairman Lester Lewis noted that the decision on keeping the older vehicle doesn't have to be made now since it will be a couple years before a new one could be put into service.
One feature the proposed new tender will have is the addition of a highpressure fire fighting system. Instead of pumping lots of water on a fire, this would spray water at high pressure at 70 gpm to create a fine mist and cool fire that way. Filas said this would work best in an air or oxygen controlled fire. The spray will penetrate a block wall and allow firefighters to combat a fire without having to go inside the structure.
"It is a different tool we would like to add," Filas said.