Posted on
Richard Parks inducted into Rib Lake Hall of Fame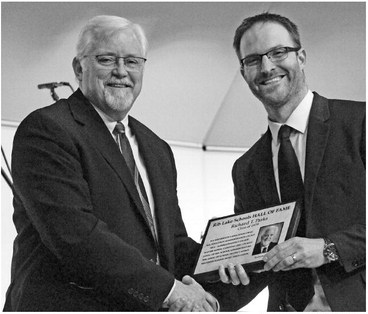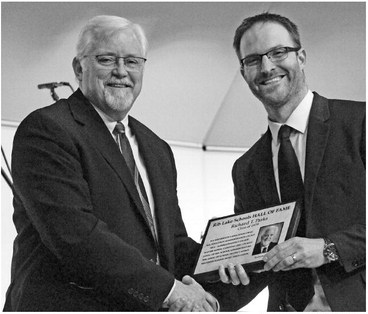 During Richard Parks' senior year at Rib Lake High School he broke his leg while playing in a football game.
Through hard work and determination the class of 1979 Rib Lake graduate overcame what could have been the end of his high school sports career and made it back to play the opening game of that year's basketball season.
Parks gave that as just one example of the need for tenacity, grit and perseverance in the face of obstacles.
Richard Parks is the 2023 inductee into the Rib Lake Hall of Fame. He joins the ranks of 14 other men and women, "Rib Lake School District alumni who have gone on to make a difference in this world."
Hall of Fame selection committee member Craig Scheithauer, reviewed the criteria the committee looks at in selecting someone to receive the honor including that the honoree "Must have distinguished him/herself in chosen field or endeavor" and "Reflects positively on the Rib Lake Community and shows a generous contribution of time and talent."
All of the criteria fit Parks to a "T." After graduating from Rib Lake High School in 1979, he went on to UW-Eau Claire, earning a Bachelors Degree in Mathematics Education in 1983. He continued his education at UW-Superior from 1984 through 1991 earning his Masters Degree in eduction administration in 1987 and is Ed.S. in superintendency in 1991. In 2007 he earned his Master Administrator Capstone Certificate from UW-Madison.
Professionally, Parks worked as a high school math teacher from 1983-1990 at Marathon High School. He was a high school coach for junior varsity basketball and varsity baseball at Marathon from 1983 to 1990. He moved on to Rhinelander High School serving as the associate principal from 1990 to 1993 when he became the Middle School/High School principal at Three Lakes serving there until 2004. From 2004 to 2008, he served as superintendent at Phelps School District. Since 2008 he has served as the superintendent at Marathon School District.
In addition to these professional roles, Parks has been active in various organizations serving in a leadership capacity going back to when he was a student at Rib Lake High School and was a charter member of the school's National Honor Society. Current Rib Lake NHS president Raelyn Waszkiewicz noted this while introducing Parks during the induction ceremony held Friday afternoon at Rib Lake High School.
Parks served as a Charter Board Member of the Three Lakes School Community Arts Association; the District Liaison to the Marathon School District Endowment Foundation; a Grant Reader with the Department of Public Instruction; Association of Wisconsin School Administrators representing Region 9 on the board of directors, associate principal and conference planning committee and being a WFEA Board member; Wisconsin Association of School District Administrators Small Schools Committee Chairman; and serves on the board of directors representing the Northeast Region and is a past president of the Wisconsin School Music Association.
Music has played an important part in Parks' professional and personal life and music was also a part of Friday's ceremony with the High School Choir under the direction of Connie Leonhard, performing "The Star Spangled Banner" and "Hall of Fame" by Roger Emerson. The high school band under the direction of Matt Robisch performed "Chanson and Bouree" by Frank Erickson.
During his remarks, Parks focused many of his comments to the elementary, high school and middle school students in attendance at the ceremony.
The following are his prepared remarks (edited for clarity): "Thank you, Raelyn for the introduction.
I also want to thank the Hall of Fame selection committee and my nominator, Marlene Rymer, the School District of Rib Lake and School Board, I am humbled today by the honor. Thank you to Mr. Robisch and Mrs. Leonhard and students for your music today – Wonderful sharing and fitting with my WSMA connection.
My next group of thank yous would go to all the guests seated.
My wife Shari and children Anika, Reid, and Allison. When you look at the years of involvement listed in the program - different schools and the levels of administration, professional organizations or coursework – I know it would not have been possible if it were not for the understanding, support and love of family. Thank you.
Parents Ray and Marion, Brothers Chuck (Deb), Bill (Jody), Ron (Michelle) Sister Beth – here is watching over us today Nina, Craig and Joelle – Josie, Dennis Friends, Barb Niemi, Joan Magnuson (via distance), Ned and Ann Orthman, Mr. Cardy, Mr. Schreiner, classmates from the Class of 1979, and all colleagues I have had the honor to work with and alongside.
Throughout my years growing up here, 11 years of full or part-time enrollment in college and beyond into my career, each of you has contributed and helped guide me in different ways – whether it be as role models, confidants, counselors, or as a support system offering encouragement during the past 40 years. I thank you, admire you, and love all of you.
As I began thinking about sharing today, I thought back to my years in and after school – I think I remembered most all of my teachers from junior high and high school. But today, I thought it might be fun to share some of my memories from those years: Junior high basketball Ogema - a carpeted gym floor.
Tripoli where I had my first technical foul.
High School where I earned 11 varsity