Posted on
Mobile Health Care center comes to area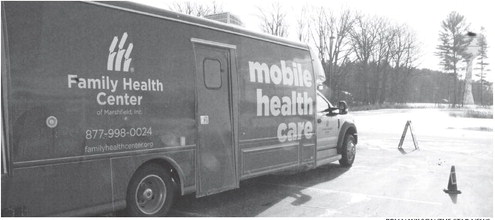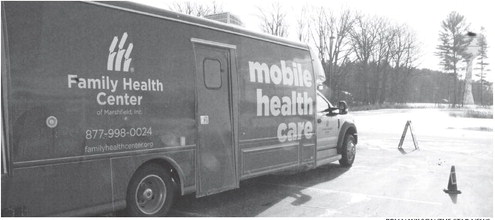 Family Health Center service brings additional same-day-care options to residents with twice-a-week visits
Area residents gained another way to access healthcare providers.
Through funding from a federal grant, the Family Health Center of Marshfield (FHC) has begun offering mobile medical services in Medford, Abbotsford and Wisconsin Rapids.
FHC is a federally qualified health center serving the community since 1974. FHC provides medical, dental and substance use disorder services for all ages and all abilities to pay.
The new Mobile Medical Services brings those services to residents in rural communities explained Samantha Krieger, a registered nurse and operations manager for the medical services. She explained that the FHC operates 19 dental clinics around the region and there was a desire to add medical services to meet identified needs in the region in order to provide a continuum of care for patients.
She said a needs assessment was done for the areas around the region using data from the state and other sources in regard to poverty levels, missed appointments and other factors. She explained the federal grant funding allows them to see all patients from those with no insurance to those with regular healthcare benefits and to bill accordingly.
According to Krieger, FHC is also starting a similar service that will be in western Wisconsin and that they are currently looking for providers now. "We got lucky in our providers here," Krieger said. Providers at the Medford location are Laura Berry, PA and Julie Rayburn, PA.
Berry explained that the Mobile Medical Service is run out of a large bus that has been designed with the full equipment and set up of a primary care office. She said they can provide the services a patient would need during a visit including running and collecting for labs, exams and vaccinations.
The mobile unit is fully accessible for those with different mobility needs with a built-in lift system. FHC also offers its own pharmacy services for those needing to get medications.
Appointments can be made by calling 1-877-998-0024 with appointment hours between 9 a.m. and 3:30 p.m. FHC offers same-day-care services.
The Mobile Medical Services in Medford is located in the parking lot of the Family Health Center Dental Center at 843 W. Broadway Ave. and are in Medford weekly on Tuesdays and Fridays.
The Mobile Medical Services are in Abbotsford on Thursdays at St. Bernard Church at 400 N. Second Ave. and in Wisconsin Rapids at Lowell Center East parking lot via the 200 block of Johnson Street.
Krieger said the reception has been positive so far with them having been coming to Medford for a little over a month. With winter on its way, she noted that in severe inclement weather, they may not be able to get to locations but are looking to add telehealth services in the future.
Krieger explained that while FHC falls under the umbrella of the Marshfield Clinic System they are able to work with patient providers and refer for other services to both Marshfield and Aspirus providers. She explained that FHC is in the process of leaving the partnership with the Marshfield Clinic System and will be going independent in April. She explained that they are taking time to get everything aligned in order to maintain quality care for all patients.
"Our focus is being very patient-centered and being very focused on that," Krieger said.
"We can work with any resources to get patients what they need," Krieger said.
The goal is to have accessibility to the service to serve as the patient's primary care providers. Krieger noted they have received feedback about the need for medical providers in Rib Lake since the clinic there closed and are evaluating to see if it would be feasible to add Rib Lake to the schedule but no decision has been made at this time.
For now, they are working to get the word out about the new same day clinic service and its availability to people in Medford and throughout the region.