Posted on
Taking the reins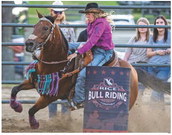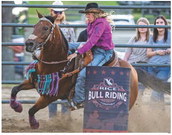 Rice Ranch and Event Center owners happy to call Medford area home
Taylor County's rodeo traditions will continue as David and Christina Rice make Medford the headquarters for their professional bull riding and rodeo company.
The Rices own Rice Bull Riding which produce events in 6 states across the midwest and in 2019 produced 19 performances in Saudi Arabia at the King's Festival. They recently purchased the Rice Ranch and Event Center (formerly K Bar R) rodeo grounds on Hwy 64 west of Medford with the intention of using it as the base of operations for their company as well as putting on a number of events throughout the season. Rice Bull Riding Co. was founded in 1997 and has grown to be the largest of its kind in the Midwest. All their events are professionally sanctioned with the CBRA (Central Bull Riders Association).
See RODEO on page 4 David Rice explained that while they produce events across the midwest, Wisconsin is their biggest area. "When the place came up for sale, we thought it would be a nice home base for our rodeo company," he said, with the ability to put on events locally when not traveling putting on shows elsewhere.
David has a long history with rodeo and in particular with bull riding. "I road bulls for many years back in the 1990s and I have been involved with it my whole life," he said.
One of the most unique experiences Rice has had occurred in 2019 when he was contacted by the government of Saudi Arabia to produce a bull riding event at the King's Festival.
"It was pretty crazy to put on," he said. It required them transporting 57 rodeo bulls to Saudi Arabia where the Saudis built a full rodeo arena. "It a was big production," he said, noting they did 19 performances at the King's Festival with production value in excess of $1 million.
He said COVID prevented them from returning there the following years, but he said he has been in talks with representatives of Saudi Arabia to produce more shows there in the future.
Locally, David said they are doing a lot of improvements to the rodeo grounds facility with plans to host a number of events this coming season as well as offering it out for rentals and other events.
He said they plan to bring a full pro rodeo to Rice Ranch and Event Center on June 9 and 10, 2023. He said they will also be having a two-day finals on September 22 and 23, explaining that the bull riders who compete in their series over the summer earn points and will come to Medford for the two-day finals event in the fall.
In addition, they be offering a barrel racing buckle series to be held June 4, June 20, July 11, Aug. 15 and Aug. 29.
In addition to the scheduled events, he said they are planning other activities such as a comedy night and food events. He noted the facility can seat up to 500 people indoors and can be rented for weddings, parties or corporate functions. He said the area is also available to be leased as a venue for people to host their own events.
David said their plans are to build a home on the property and use it as their base of operations. In addition, they have a full-time caretaker at the property.
David explained that he was very familiar with the property working with former owners Cody and Debbie Rabska who hired his company to put on events there.
He said they had been looking for the past two to three years for a place to have as their home base and were lured to Medford by the area's rich rodeo history.
David explained that he rode bulls at the arena during his own bull riding days and that they really liked the Medford area. He noted that he did a show in Medford last July and it was packed with a high level of excitement from the spectators.
"We really like the area," David said. He said they are looking forward to working with the business community for sponsorships of events and the arena.