Posted on
The smallest changes make the biggest difference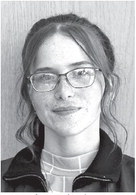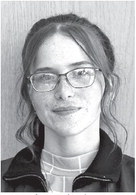 When you first look at Jennifer, you see a typical nineteen year old who is in her second year of college, and making a good life for herself.
None of that would have been possible without her willingness to want a better life from where she came from and the foster family that helped her to believe that life can change for the better.
Growing up, Jennifer described her parents as alcoholics. After having three children, Jennifer's dad got sober, but her mom was in and out of her life a lot, due to her relapsing on alcohol.
While living with her dad, Jennifer says "My dad was there but he wasn't actively present in our lives."
She remembers going to school with her hair not brushed, having to take showers [because her house didn't have water] and change her clothes at school because of the bed bugs in the mattresses. She wasn't able to sleep soundly at night, so she was exhausted all the time. The school had to buy clothes for her and her siblings because their clothes wouldn't fit them anymore.
Jennifer focused her energy on school and athletics, to try to give herself a distraction from her home life. People would start asking Jennifer what was going on at home, and she never reached out to anyone due to the fear of teachers or other authority figures not believing what she would tell them. Jennifer tried to distract herself by doing good in school and being involved in athletics but no matter how hard she worked, she couldn't fully focus on school because she was always worried about what her home life would be like when she got home from school that night.
When her mom relapsed, Jennifer took it the hardest because her mom was her 'Saving Grace' out of her dad's house.
When she entered high school, she didn't want to be at home because of the instability of her home.
"While my brother was in foster care, I was my dad's newest target for chaos," Jennifer said.
Jennifer remembers staying in the bathroom all day by herself as a way to escape from the chaos that encircled her. She slept on the kitchen floor at a time, to try to get some much needed rest and to get away from the bed bugs that were in her mattress.
When Jennifer was 15, her mother passed away. Her mother gave her affection and advice at a time in Jennifer's life when she wasn't getting that. While she had recovered from alcoholism, she eventually lost her battle with Stage IV lung cancer. Jennifer was with her mother when she passed and it has left her missing a piece of her heart ever since.
After her mother passed away, she had kept a watchful eye over her older sister who was doing everything around the house to make their father happy.
Once their mom passed away, the girls weren't able to go and visit family members from that side of the family anymore. They in turn lived a very sheltered life from that point on. As Jennifer got older, she looked for more and more ways to get out of the house.
"It was hard to prove that my home life was bad enough to be removed," Jennifer said.
When things got so bad and Jennifer couldn't take any more of her home life, she turned to a teacher and explained how bad her home life was to her. Following protocol, the teacher filed a report, and then she called Jennifer's father, who in turn assured the teacher that everything was okay. Parent/teacher conferences happened soon after and Jennifer's father met her teacher with whom she had confided in. The next day the same teacher came up to Jennifer and told her that after talking to her father, she felt that the home environment was somewhat stable.
Shocked by this betrayal, of her teacher not believing her situation to be true, trust issues became a huge barrier for Jennifer to overcome.
Desperate for a way out, Jennifer came to the realization that her brother got into foster care by getting into trouble, she wanted to know what happened if she got into enough trouble, would it be enough to get out of the hell that she was living in.
During Jennifer's junior year, she missed almost half the year of school and was very close to not graduating. Being that the home situation was so suffocating for her, she lived with a relative for a short period of time, and that didn't go as well as she had hoped.
Shortly after her seventeenth birthday, she finally got her safe haven when she was placed with her new foster family John and Kathy Zuleger. The Zuleger's have become her second family.
"They rewired my brain to believe in myself and they could see the potential in me that I never saw in myself. They know me better than I know myself," Jennifer said.
Even though she was 17, living with the Zuleger's gave her some of her childhood back in a sense. She was able to be a kid and not have to have the responsibilities of her family on her shoulders, like she had always been accustomed to. Jennifer was scared of getting too attached to her foster family because of the fear of losing them like she has lost so many other people in her life. So she continued to be closed off towards them to protect herself from getting hurt. Looking back, she regrets being so closed off towards her foster family, but it has definitely gotten better over time.
Zuleger's already had a son and a daughter of their own when Jennifer came into the family. They welcomed Jennifer with open arms, still to this day treat her like a member of the family.
"I'm glad I can have that bond with them, and I can be part of the family," Jennifer said.
A lot of her insecurities have definitely shaped who she is, but she also has grown as a person since being a part of the Zuleger family.
Being with her foster family, gave Jennifer stability in her life, she learned to be a teenager and not the caretaker. She also learned to open up as a person, rediscover who she is, and put her potential into action. Jennifer has always been a self-advocate for herself. Her mission now is to instill hope in other foster children and reassure them there is hope.
"Having a long-term support system has been a game changer for me," Jennifer added.
Jennifer is starting her second year at Northcentral Technical College (NTC) for an Associates Degree for Business management. She knows she wants to become a foster parent when she turns 21. She also would love to be an adoptive parent one day. She wants to instill hope in children just like the Zuleger's gave her hope in her life.
Jennifer said "This town, county, and state need more foster parents like the ones I was blessed with. Having a stable parental figure in youth's lives can change their world completely."
She hopes to start her own organization for youth who are in the grey area of neglect and abuse, where Human Services, Child Protective Services, can't get involved because it is out of their jurisdiction.
"I want to find legal loopholes for the parent and the kids," Jennifer said.
She is an advocate for foster parents and foster families all over the county. She would like to give motivational speeches to schools and youth groups.
Supervisor of the Taylor County Human Services Department Julie Clarkson said "Knowing Jennifer's story and all she has endured, is proof that there is hope for children everywhere."