Posted on
Jeff Beard earns DAISY Award at Aspirus Medford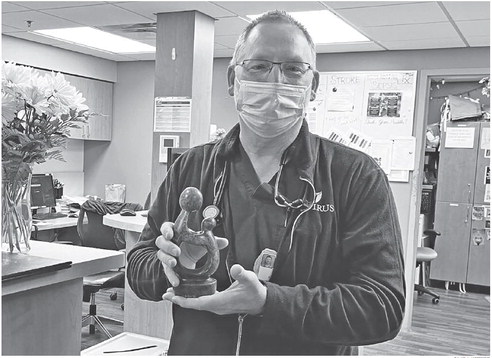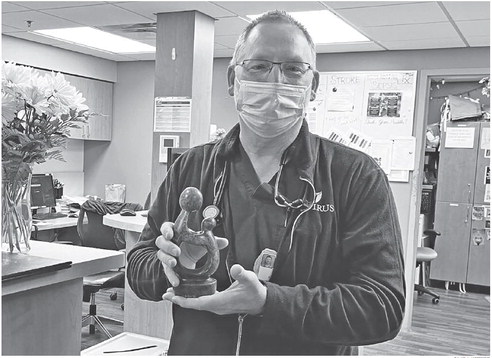 Aspirus Medford staff recently honored Jeff Beard, Emergency Department RN, with the DAISY Award for Extraordinary Nurses in recognition for their commitment and patient centered approach to care. The award is part of the DAISY Foundation's program to recognize the super-human efforts nurses perform every day.
Aspirus Medford Hospital DAISY Award recipients are nurses recognized for going above and beyond patient expectations by providing service with respect, compassion, and integrity; generating enthusiasm and energy while carrying out everyday duties and responsibilities; significantly making a difference and listening not only with ears but also with heart.
Beard was nominated for the DAISY Award by a patient's family. The nomination reads: My mother-in-law asked that I nominate Jeff Beard for his wonderful care provided to her during an ER visit this fall. She had an accident during bow hunting season in which her finger was injured and needed emergent care. It was such a rush to get the ED in Medford and in her hurry, she had left her wallet behind. From the visit she required to have prescription medications in which she was unable to pay as she didn't have her wallet with her. She was relieved and amazed that Jeff was quick to offer to pay for her InstyMeds so she wouldn't have to worry about the money when she was already overwhelmed by the events that had taken place that evening. She was so thankful that he would have such a big heart to be willing to put her as a patient first and felt like she had been cared for in such a genuine way. She returned to the ED the following day to repay him and still speaks so highly of the care she received from Jeff to all those around her in the community. AMH is blessed to have such a giving and honest employee on their team!
Beard and co-workers were treated to cinnamon rolls which honor the memory of the late Patrick Barnes who once ate his father's cinnamon roll when he was in the hospital without an appetite for food. He then requested one for the next day – and enough for all the nurses in the unit. The hope is that whenever a nurse smells that wonderful cinnamon aroma, they'll stop for a minute and think of how special they are for being a nurse. Additionally, Beard received a daisy honoree pin, certifi cate and a beautiful and meaningful sculpture called A Healer's Touch, hand-carved by artists of the Shona Tribe in Africa. A celebratory banner will hang in his work area for a month, generating positive conversation about the special role nurses play in patient care.
Established in 1999, the family of J. Patrick Barnes created the DAISY (Diseases Attacking the Immune System) Award to honor his memory with a tribute to the skillful and compassionate care he received from his nurses during his hospitalization. Today, more than 3,200 healthcare facilities in every state and 22 countries honor nurses with the DAISY award. Nurses may be nominated by patients, families, visitors and colleagues and they are chosen by a committee of Medford volunteers to receive the DAISY Award.