Posted on
Enjoy the Little Things in Life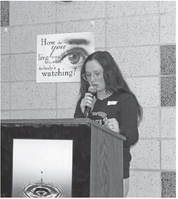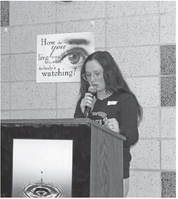 Leila Sigmumd, first place
"Enjoy the little things because one day you will look back and realize that they make up all the big things in your life."
-Anonymous On April 2, 2001 my oldest brother was born. His name was Gabriel and he was always happy and cheerful. He had gentle brown eyes and an amazing smile. Some would say that he was the most beautiful boy you had ever seen.
About three years after Gabe was born, he became paralyzed from his neck down. After running many tests, the doctors still didn't know how this happened. Gabe had every right to be upset that he couldn't do normal kid things anymore. Somehow, he still found a way to always be happy. I was born when Gabe was about seven years old. He called me his precious and he was my favorite person in the entire world. I spent every spare moment I had with him. We would lay on his bed, snuggle, and watch one of his favorite movies. His favorite movie character was Iron Man and he would often pretend to be him. Everyday, as Gabe got older, he continuously enjoyed the little things. He never let his amazing smile fade.
One day the whole family went to the pool. My mom was sitting with him in the shallow end as he watched his brothers and sisters play on the diving board and rock wall. My mom saw this and asked, "Gabe, are you sad you can't swim?" He replied with, "No Mom, I just like watching them play." It was days before my sister's graduation party, so we were all there just to have some fun. Gabe was able to find joy in just being part of the family. Little did we know that our lives would soon change.
Gabe and I said goodnight and I love you to each other, just like so many nights before that. When I woke up the next morning I heard more voices and noises than normal. I went into the living room to see what was happening. When I got there, I saw the paramedics working on Gabe and I asked his nurse what was going on. She said, "Everything is going to be okay, just go back to sleep." When I came back out, I didn't remember much about what just happened. I asked his nurse, "Where's Gabe?" She told me that he passed away, went to heaven and that he isn't in pain anymore. I immediately started crying and wanted to fall to the floor. That's when it hit me. The last words I had ever said to him were, "Goodnight Gabe, I love you. I'll see you in the morning."
Gabe has been gone for almost eight years now. I miss him everyday. He taught me how to enjoy all the little things in life. He was never worried about anything because he knew that God had a plan for everything and everyone. Gabe found the joy and peace in each moment, because he understood that when you add up all the little things in your life, those moments are what's truly special. For thirteen years he lived each day like it was his last. Gabe taught so many people about God and to learn to cherish each of those special moments.
Not a single day passes that I don't miss my brother. I live my life based on the lessons he taught me. Because of the way he lived, I know that no matter what is going on in life, you can find something to smile about and be grateful for. Gabe is and always will be my role model, my hero, my Iron Man.