Posted on
50th annual Abbotsford Christmas parade coming Dec. 4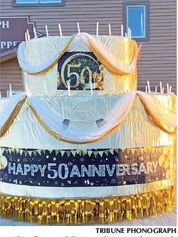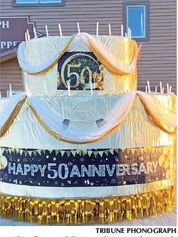 TRIBUNE PHONOGRAPH
After marking off last year's drivethrough parade as the 49th and one-half, the full beauty and excitement of the Abbotsford Christmas Parade returns to downtown Abbotsford on Saturday, Dec. 4.
All the planning and prep work will come to a climax as the parade sets off from TP Printing's parking lot on Spruce St. at 7:30 p.m.
As it has for about the past 15 years, the parade route will run east on Spruce St, to Second St., turn west on Birch St. to First St. (Main Street), then head south, back to Spruce St.
Parade watchers will have the chance to purchase raffle tickets for prizes before the parade from venders along the route. The raffle ticket sales have been the main revenue supporting the parade through most of its 50 years.
The grand prize is $1,500 donated by AbbyBank. Other prizes include a Daniel Boone Grill donated by Maurina-Schilling Funeral Home and Smith Bros. Meats; a Yeti Cooler and $1,000 meat donated by Nicolet Bank; a $500 prepaid Visa gift card donated by Forward Bank; metal art donated by Combat Parts and TP Printing Co.; a New Holland corn hole game donated by Cherokee Garage; a pet wellness package donated by Medford Vet Clinic; a $200 Visa gift card donated by Royal Credit Union; a $200 gas card donated by Central WI Plumbing and Christensen Farms Trucking; $100 chamber bucks donated by Century 21; a $100 pizza party donated by Pizza Hut; a large stuffed lion donated by First City Dental; and a large stuffed bear donated by First City Dental.
Other events will be taking place that day at Abbotsford City Hall and at many Abbotsford businesses. Events include a craft show, Abbotsford Lions chili and soup feed, and Curtiss Lions photos with Santa throughout the day. The Central Fire and EMS District will host a family Christmas movie in the council chambers during the afternoon.
This year has been an especially busy one for the parade committee as two new floats have joined the 45 old and refurbished ones. New this year are the Snow White mine train and Coco float and characters. Refurbishing was done on the Dora, Sleeping Beauty and Mother Goose floats, and the huge anniversary cake was redone in gold in honor of the 50th event.
Over 400 volunteers are needed to make the parade come to life as over 250 costumed characters, float pushers, drivers and crowd control personnel make up the backbone of the parade.
Anyone wanting to join this group may contact parade chairman Kris O'Leary at 715-360-0901.
Costume fittings have been going on since early November, but there may still be some characters available up to the day of the parade.
Fifty years ago, Santa Claus, Frosty the Snowman and Rudolph The Red Nosed Reindeer arrived in downtown Abbotsford on a fire truck. They, along with the parade's 40-foot Puff the Magic Dragon, are ready to delight young and old. It's a parade no one will want to miss.