Posted on
HAZMAT team called out over ill driver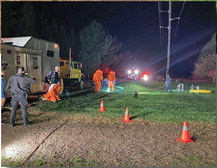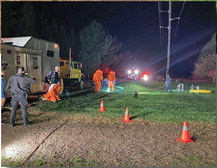 Delivery driver suffered medical emergency, crews called out for extra caution
A medical emergency turned into a contamination scare Wednesday night in the town of Westboro.
Vi and Don Nelson were home at 7738 Zimmerman Rd. on the evening of Oct. 13 when a Fedex delivery truck pulled into their yard to make a delivery of a package they were expecting. After some time passed with the driver still in the vehicle, Don Nelson went out to investigate and see if there was something wrong.
"He was in the back of the truck for the longest time," Vi Nelson said of the delivery driver.
Don Nelson found the driver in medical distress having trouble breathing and displaying other symptoms including sweating profusely and vomiting. "He was not doing well at all," Vi Nelson said. After taking their package into their home, they called 9-1-1 to get the driver an ambulance and while waiting for an ambulance continued to stay with him and attempt to keep him awake and alert. "We tried to keep him coherent," she said.
The 31-year old driver, whose name has not been released, was transported to Aspirus Medford Hospital and then airlifted to Aspirus Wausau hospital. He was initially listed in critical condition and later died at the hospital.
The Aspirus Medevac crew raised concerns about the symptoms shown by the driver and the possibility that he had come into contact with a contaminate or some agent that caused his symptoms. The Medford Area Fire Department was called to Aspirus Medford Hospital to decontaminate the driver for potential exposure to a chemical used in industrial pesticides.
Westboro Fire Department was also called to the Nelson home to do a decontamination of the truck but does not have HAZMAT gear. A HAZMAT team from Wausau was dispatched and the Westboro Fire Department maintained a perimeter around the vehicle until the HAZMAT crew could arrive and assess the situation.
Vi Nelson noted that it was great to see the different agencies from different counties all working together at the scene and praised their efforts. When the crew arrived they did not find evidence of the suspected chemical agent in the truck or in the Nelson home and cleared the scene in the early morning hours of Oct. 14.
On Thursday, Taylor County Sheriff Larry Woebbeking said chemical agents have been ruled out as a cause of death based on the preliminary toxicology screening.
Pending the outcome of the autopsy, the driver is believed to have died of cardiac arrest from a blood clot. Blood clots are a lingering complication of the COVID- 19 infection. The driver had told the Nelsons he had been sick with COVID-19 in September.
Westboro Firefighters assisted the Wausau HAZMAT team in securing the area. Fortunately no suspect materials were found.
SUBMITTED