Posted on
Royal Credit Union marks grand opening for Medford location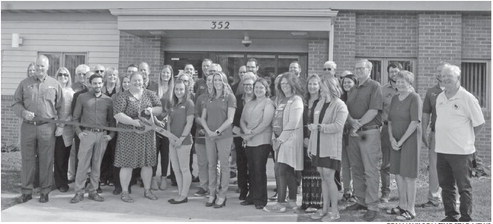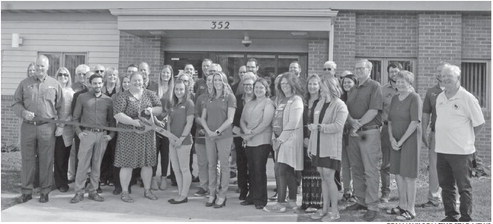 Royal Credit Union (Royal) hosted a grand opening celebration for its new office in Medford, WI last week. The new office is located at 352 N. 8th Street and is open for business Monday through Friday 8:30 a.m.-5 p.m. and by appointment on Saturdays. The drive-up is open 7:30 a.m. -5 p.m. Monday through Thursday, 7:30 a.m. -5:30 p.m. Fridays and 8:30 a.m. - 12 p.m. on Saturdays. A drive-up ATM is also available 24 hours a day.
During the week-long celebration, Members and community residents were invited to stop by the new offi ce to learn more about the credit union, meet the Royal Medford team, and enter to win prizes.
A ribbon cutting ceremony hosted by the Medford Area Chamber of Commerce was held on Wednesday, September 22. Royal's Medford Branch Manager, Kimberly Roshell emceed the event. Event speakers included Chamber President, Sue Emmerich, Medford Mayor, Mike Wellner, as well as Royal's President/CEO, Brandon Riechers, and Board Chairman, Tom Huffcutt. State Rep. James Edming, also attended the celebration.
"Royal Credit Union is a values driven organization and our core purpose of creating a positive impact in the lives we touch is the focus of everything we do," said Riechers. "We are excited to join this close-knit community and look forward to providing value to our Members by offering convenience and highly competitive products and services."
In the spirit of making a difference, Royal donated $500 to The Medford Library Foundation, Inc. Its mission is to benefit the community by raising, managing and distributing funds to support the Frances L. Simek Memorial Library offerings and services. Library Director, Maxx Handel, participated in the ribbon cutting ceremony and accepted the gift alongside members of The Medford Library Foundation's board of directors.
The grand opening celebration concluded with a special event for children on Friday, September 24. Families had the opportunity to meet Royal Kid's Club mascot, Savin' Sammy and receive special treats and take-and-make piggy bank kits.
Royal Credit Union is a federally insured credit union proudly serving over 230,000 Members in Minnesota and Wisconsin. You can open an account or apply for a loan at Royal Credit Union if you live or work in 26 counties in western Wisconsin or 16 counties in Minnesota. Counties served in Wisconsin include Adams, Ashland, Bayfield, Barron, Buffalo, Burnett, Chippewa, Clark, Douglas, Dunn, Eau Claire, Jackson, Lincoln, Marathon, Pepin, Pierce, Polk, Portage, Price, Rusk, Sawyer, St. Croix, Taylor, Trempealeau, Washburn, and Wood. Counties served in Minnesota include Anoka, Carver, Chisago, Dakota, Goodhue, Hennepin, Isanti, Olmsted, Pine, Ramsey, Scott, Sherburne, Wabasha, Washington, Winona and Wright. Realtors in the state of Wisconsin or Minnesota are also eligible to join the credit union.