Posted on
Gilman board approves administrative restructuring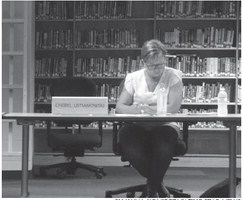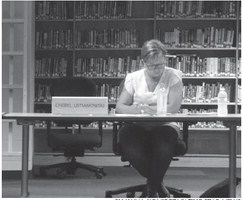 SHAWNA KONIECZNY
REPORTER
At Monday's meeting, the Gilman school board made the decision to move forward with changes to their administrative structure. At the June special board meeting, 4K-4th Grade Principal and District Administrator Wally Leipart presented a number of potential structures for the district's administrative responsibilities. One of the more favored options was having three teachers be deans of students at the elementary, middle, and high school levels or hiring one dean of students that would also act as the athletic director. Leipart held a meeting with staff shortly after the June special meeting to get their feedback to the new potential administrative structure.
"We had an excellent meeting. We had 6 staff members and 21 teachers that attended. At the end, we had a vote. There were 22 staff and teachers who were in favor of a teacher-empowered school, 3 staff and teachers said a single person as the dean of students and athletic director. No one indicated that we should be hiring a principal at this time, and we did have 2 staff or teachers that were undecided," said Leipart.
The teachers showed a lot of support for this new structure and what it could bring to the district. Leipart explained that the teachers at the meeting talked about collaboration, communication, support in the classroom, and consistency with discipline as some of the benefits from this new structure. "We have a great staff that really wants to come together and support one another and do what's best to keep education in this district," said Leipart.
Leipart also presented a job description for a dean of students as well as changes to the district administrator job description as the current responsibilities will be impacted by the lack of a principal and addition of deans of students. The board approved moving forward with this new administrative model for the Gilman school district.
Also at the June special meeting, it was decided to make an appeal to the WIAA about allowing Gilman and Thorp to continue their co-op for the 2021-22 baseball season. However, Thorp has decided that they are no longer interested in doing the co-op with Gilman this year, therefore the school will no longer be appealing to the WIAA. "The baseball coach did have some encouraging feelings about the number of athletes that we may be able to get for this year," said Leipart.
At the meeting, three 2021-22 handbooks were approved by the board. These included the student/parent, coaches, and technology and iPad responsibility use handbooks which were all approved. For the student/ parent handbooks, the district is again allowing parents into the schools to pick up and drop off their children and required social science credits was changed to 3. The board approved this handbook on the condition that minor changes be made in relation to the dress code to add consistency throughout the building and including assigned parking spots for students.
The technology and iPad responsibility use handbook includes information on the expectations for students when taking their iPads home, voluntary insurance, repair and replacement costs, and the user agreement. No changes were made to the coaches handbook from last year.
The board also discussed the extracurricular code handbook, however the board is waiting to approve this handbook until after more discussion is done about its contents. "I want to bring the head coaches in and have a committee conversation about several things in [the handbook] because I do not feel that we're in a position to necessarily adopt it the way it is," said Leipart.
Many of the changes proposed clarified the district's rule with academic ineligibility for participating in extracurriculars, mostly in regards to playing sports. If a student's failing grade is from a medical abscence, they have the opportunity to make it up before having to serve 15 school days of not participating in their respective activity. When a student is academically ineligible, they have to sit out of participating in their activity or sport for 15 school days and then after those days are over, they have the ability to get their grades checked to be reinstated right away even if it's after the 15 days.
The proposed changes also addressed academic ineligibility when students are taking college classes and when they drop or change their schedule. Because some of these things happen in the middle of a quarter, students end up serving their 15 days twice or later than they are supposed to and the new wording in the handbook fixes that problem.
The board also discussed what it means to the district to hold students to a certain moral standard. "When we start with our extracurricular handbook saying that we're going to hold kids to moral standard and then they get involved with criminal-related activities. Under whose standards?" said Leipart, "It becomes very challenging when you have statements like that."
Leipart further explained that when it comes to criminally- related activities that there can be a lot of gray area where what is considered criminal to the school isn't clearly defined. "[Part of the current code] comes from the WIAA. If a student is charged or convicted of a felony, upon the filing of the felony charges, become ineligible for all further participation," said Leipart. "We may want to consider doing the same thing for criminalrelated activities so if it's a misdemeanor, for example, in order for us to say that somebody was involved with trespassing, there has to be some kind of charge."
This topic will continue to be further discussed with coaches and any board members that want to participate in this committee and the final changes to the extracurricular code handbook will be presented to the board at the next meeting.
The board also approved to change their health and dental insurance. The district is switching back to getting their health insurance through Security Health Plan, saving the district $85,000. "So reduce our cost this year, reduce the increase that'll be for next year," said Leipart.
The district is also dropping their current dental coverage with Companion Life and moving to Dental Difference, which is a reimbursement plan. "It's worth giving it a shot, save $8,000, reduce our rates, and see how staff use it," said Leipart. "Dental Difference is basically like a debit card. It is not insurance, but it has the same cash value as what we were giving them in the first place."
In other business, the board approved the Pupil Academic Standards of the district. The board decided to continue to adopt the Wisconsin Department of Public Instruction model academic standards. Few changes have been made to the state standards from the previous year. An emphasis on equity and diversity was added to social studies and there was more physical science added to the standards.
"Our course work is focused on creating a climate and culture in our communities [through] community collaboration and acceptance and we don't emphasize any specific point of view over another," said Leipart.
In a recent ruling by the Supreme Court in the case of Mahanoy Area School District v. B. L., the Court ruled in favor of B.L., a cheerleader who was suspended from the cheerleading squad after making posts on the social media app, Snapchat, that used vulgar language and gestures to express her frustration with the school. B.L. argued that her punishment from the cheerleading squad was a violation of her First Amendment right of free speech as her posts were made off campus and out of school hours. It was ruled that her posts were in fact protected speech under the First Amendment.
"That [ruling] does open up some doors that we have. So what is also protected speech? It could be an image," said Leipart. "We are waiting to hear how that might impact those kind of things. So when you think about pictures students might Snapchat or share, comments they make about those pictures and things like that, and so how does that impact athletic code?"
Leipart explained that the staff's mandatory training they are required to do each year can be done at their own pace. Something that Leipart said the staff is very appreciative of. The Gilman School District will be running two fifteen minutes segments at K99 Radio and twenty fifteen second ads starting at the end of July. Leipart also explained that their summer camp has been very successful thanks to their staff involved.
Leipart also gave an update to the board on the status of the track, which was recently damaged while replacing lights. "The only thing I can say at this time is that it's still in progress with the insurance company. They are looking at receiving quotes," said Leipart.
The board approved the authorization of a 60,000 gallon LP heating fuel contract with River Country Cooperative with the price of $1.009 per gallon. For new staff, the district hired Tabitha Lee as a part time teacher for eSucceed Virtual School for elementary. The Gilman board is also preparing for their retreat in August.