Posted on
Hemer Funeral Service welcomes new owner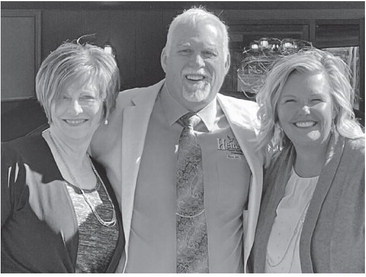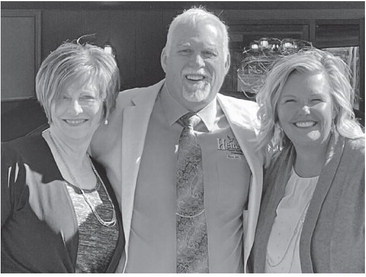 Stacey Pickerign is new owner, taking over fourgeneration business
Hemer Funeral Service in Medford has served Taylor County families since 1891 and under new family ownership looks forward to serving the community for many more years to come.
Stacey Pickerign has taken over as owner of Hemer Funeral Service. Longtime owner Jeff Hemer is entering semi-retirement as he works with Pickerign during the transition.
Hemer, who will be 65 in September, described Pickerign as being a perfect fit when it comes to taking over the reins in a business that has been in his family for 130 years. Hemer said they are working to make the transition in ownership as seamless as possible with no changes in staffing. He assures those who have prearranged services that all the files are being transferred to the new owners and that everything will remain as it has been set.
For Hemer, keeping the funeral service family-owned was very important. As an industry, funeral services are seeing rampant consolidation and a switch from private ownership to corporate ownership. Hemer said in working with people to purchase the business, he wanted to find someone who would continue it as a family business.
Hemer said the community has been very supportive of the funeral service for four generations and was very appreciative of that ongoing support. Each generation of ownership has worked to give back to and have been proud to be part of the community over the years.
Hemer said that when Pickerign approached him, he quickly gained a sense that it was a good fit for both of them. "It is a win win, with a motivated buyer and a motivated seller," Hemer said.
While he is continuing to work with Pickerign through the transition, Hemer said that he is looking forward to spending time with his grandchildren. He has one granddaughter and another on the way.
Hemer joined his brother, Smokey, in the family business in 1980. Smokey retired about 15 years ago at age 55. Hemer described the past 41 years of serving area families as being a privilege. The past year has been an especially challenging one for funeral services as they dealt first-hand with the impacts of the COVID-19 pandemic. "We have never experienced deaths like we had in November and December. It was a hard year," he said.
Hemer said he was pleased to be able to find someone with the drive and personality that Pickerign has to continue serving the community for many years to come.
Looking to the future
Pickerign brings nearly 23 years experience in the mortuary business and is excited about being the sole owner of her own business. She and her husband, Kirt, recently purchased a home in the Medford area and look forward to getting involved in the community.
Pickerign grew up in Eagan, Minn. and attended the University of Minnesota Mortuary School. After graduation she went to work for a corporate-owned funeral service in Minneapolis and was given the opportunity to transfer to a funeral home the company owned in Chippewa Falls.
It was while working in Chippewa Falls, she met her husband, who works at an engineering firm in Eau Claire, and started a family. Through the years she was with that funeral service, the original owner purchased 50% back from the corporate owners and she eventually bought out his share when he retired. Her goal was to have 100% ownership of her own funeral service, in part because she has a son who eventually wants to go into the business.
Pickerign said she first met Hemer about two years ago while at a mortuary convention and quickly hit it off with him. When she heard that a family-owned funeral home was looking for a buyer she was very interested and reached out to him last November and set up coming over and talking with him.
"It was a perfect fit," she said. "I am excited to be here in Medford." She has sold her ownership interest in her previous funeral service and is focused on serving area families with Hemer Funeral Service.
While Pickerign has moved to Medford full-time, her husband and youngest son are staying in Chippewa Falls for a year until he graduates from high school. Her older son attends Viterbo University in LaCrosse.
When Pickerign started her career in mortuary, there were only a small number of women in the field and her classes were all men. Now, she said the classes are about evenly split between men and women with women making up about 60% of morticians nationwide.
Pickerign explained that initially in school she had been on a pre-med track but switched into mortuary science. She said she has always enjoyed meeting with people. She said helping families through what can be a difficult time in their lives is very rewarding. "I think of the families I work with like how I would treat my own family," she said.
In many ways, especially in smaller places like Medford, the people in the community become an extended family. "It is like one big family and I really like that part," Pickerign said.