Posted on
Special committee gets to work on finding shelter site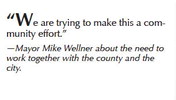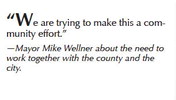 Taylor County and the city of Medford are moving quickly with joint efforts to locate a suitable spot for a planned "transitional housing" facility.
Taylor County Supportive Housing (TCSH) has been working for more than a year to bring a shelter to the area with grant funding secured to get it up and running. The shelter, which will be known as "Taylor House" will provide temporary shelter to homeless individuals and families as well as support to get people into permanent housing.
TCSH has faced challenges in finding a suitable location due to grant funding limitations and opposition to the sites they have selected. After the county board voted down buying a downtown building, county board chairman Jim Metz created the special committee with both city and county officials on it.
According to Jessica Mudgett, president of TCSH the demand varies for housing day by day. In 2020 there were 772 motel room nights used for 97 different homeless individuals and families in the county.
Mudgett explained that with a facility they would work with the people to develop transition plans such as helping set aside the money needed to pay for getting into an apartment.
City council member Christine Weix asked about the length of stay expected if it would be six to eight weeks versus just a few nights. Mudgett said that while every case is different, she said the hope would be that individuals would be in the facility on average about 30 to 60 days. She said they are looking to have an eight-bed facility due to the need to be able to serve families as well as single people.
Mudgett said there will be guidelines in place for those in the facility including curfews, the need to be working or seeking work and that no sex offenders would be permitted to stay there. Part of the grant covers the initial staffing of the facility. TCSH board member Mike Lindau said they hope to get a volunteer base together with the goal of 24-hour staffing. He said the location would be secured.
One of the challenges, and the need for the county to move quickly, is that the grant funding expires in October 2022. Of the $320,000 in grant funds, Mudgett said about $200,000 is available for the purchase and renovation of a property.
Lindau said the factors they have looked at have been accessibility, distance from services, access to employment, schools, daycare, etc. He said that within the past 18 months they have looked at nine different properties without success.
A committee member suggested looking at existing multifamily properties. Mudgett said the grant rules require them to pay for relocation expenses if anyone is living there, which could rapidly diminish their available funding.
Committee member Gene Knoll, said that prior to the meeting he had driven around the city for an hour looking at possible locations. He said that core business areas, such as Main St. south of Hwy 64 and along the Hwy 13 corridor he did not feel would be suitable because they are business-focused. He said along Hwy 64 in the city is a potential because of its mixed-use nature.
"We are trying to make this a community effort," said mayor Mike Wellner, who serves on the committee. He said it would be a huge clash if the facility was located downtown. "I don't want people to move off Main Street," he said.
Mudgett said that one of the biggest issues is that clients would need to be close to services and that there are limited transportation options especially after 5 p.m.
Committee members agreed that while Main Street was not viable, the general area within four blocks of the courthouse was considered viable given the mixture of mixed-use and walking access.
Committee members discussed available buildings in areas where both the city and county felt were appropriate and put together a list of places that TCSH members would look at and report back on their availability at a meeting either late this week or early next week.
are trying to make this a community effort."
—Mayor Mike Wellner about the need to work together with the county and the city.
"W e