Posted on
Holy Rosary Parish spreads good will and warm clothing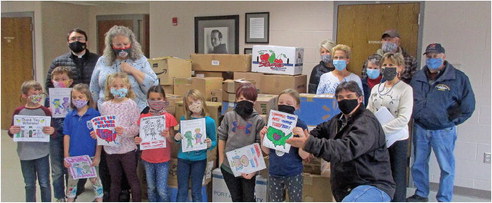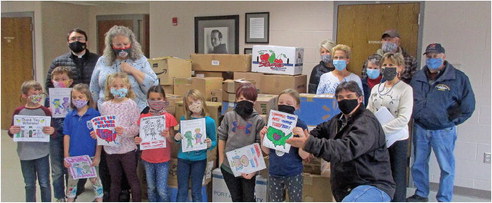 Sharing good will and clothing, plus more, is what the Holy Rosary Parish community has accomplished in the midst of the COVID – 19 pandemic. This is a parish community project which also involves the students at the Holy Rosary School.
A collection of new and gently used clothing and personal hygiene items has been collected at the Holy Rosary Parish in Medford the entire month of November. This year more than 60 boxes of winter clothing and lighter summer weight clothing was donated for the Homeless Veterans through the Every Third Saturday collection site in the Minneapolis area.
In addition to clothing, footwear, and sleeping bags, this year's collection was more varied as it included several crocheted sleeping mats, made by Tammy Krawczyk from Ogema. These mats are crocheted from strips of plastic bags and are washable, light weight and can easily be carried from place to place. In addition, many back packs were also made by Jeanne Hemmer, Medford.
The students in PreK3 – 6th grade at Holy Rosary School made cards for the Homeless Veterans. These cards were presented to Scott and Deb Marrier, of rural Withee. Scott thanked the school children for making the cards and explained how much these cards mean to the veterans. The cards convey a message that someone cares about them. The cards also relay a message of hope which help the veterans start to believe that life can be better.
The Marriers started the Hands Foundation, a nonprofi t organization that collects and distributes donated clothing items to the veterans in the Twin Cities. To date, the Marriers have delivered more than 45,000 items. Their efforts and dedication help make Every Third Saturday a continued success.
In 2007, Every Third Saturday, was started by Tom and Jessi McKenna, in Minneapolis. This organization reaches out to veterans confronted with issues of homelessness, substance abuse and health problems. Every Third Saturday provides support, educational and heath care resources to assist the veterans and their families. Over 115,000 items have been donated to homeless and struggling veterans, through their organization. Their ministry is built on a foundation of faith and a belief that the wounds to the soul, that many veterans struggle with, cannot be healed without divine intervention and a belief that we are all here for a purpose.
To learn more about Every Third Saturday, check their website: [email protected] The donation of clothing from the parish community was made possible by the support of Holy Rosary pastor, Fr. Patrick McConnell, Theresa Easterly, principal of Holy Rosary School, and the out-pouring of generosity from the Holy Rosary Parish Community. This project is one way to remember the Veterans who have served our country and to provide some warmth, comfort, and caring this winter season.