Posted on
Miller faces physical, mental battle against cancer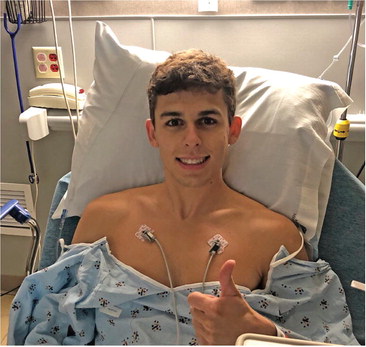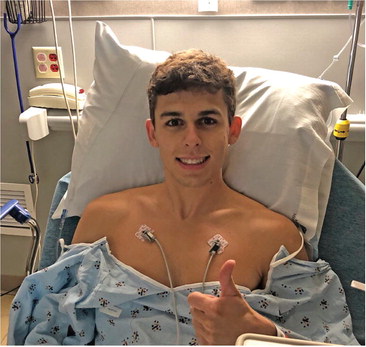 "I was waking up in the middle of the night feeling like someone was sitting on or pounding on my chest," said Jobe Miller, 19, of when he first knew something was wrong earlier this fall.
At first doctors suspected his chest pain was due to a muscle injury from work or exercising. However, the pain didn't get any better even after he stopped those activities.
"The first night was really scary," Jobe said. The 2019 graduate of Medford Area Senior High School ended up in the hospital having X-rays and an EKG, they ruled out a heart attack, but doctors failed to determine the cause.
Two weeks later, with the pain not relenting, Jobe and his parents, Dan and DeAnna of Medford, went for a second opinion with a different doctor.
This time the doctor looked at the xrays and saw something wasn't right, especially considering that Jobe had lost a lot of weight over the summer. The doctor ordered a CT scan and they could see that the lymph nodes in the neck were very inflamed. The doctor suspected cancer and ordered a biopsy to be done.
The red dots indicate organs that typically light up during a PET scan. The other white areas show lymph nodes inflamed due to cancer.
Doctors removed a lymph node from Jobe's groin and had it tested, but the test came back negative.
Still not satisfied and knowing something was wrong, they then went to an oncologist, Dr. Adedayo A. Onitilo, who ordered a PET scan. The scan uses radioactive tracers to provide a detailed view of how the body is working. On a healthy person typically there would be only organs like the heart or kidney that would light up.
"Mine looked like a Christmas tree," Jobe said, of the number of trouble spots found on the scan.The doctor followed up with a biopsy of a lymph node in his neck that confirmed what the doctor suspected, it was Hodgkins Lymphoma. Hodgkins Lymphoma is cancer of the part of the immune system called the lymphatic system. As the cancer progresses, it limits the body's ability to fight infection. Lymph nodes in the neck, armpits, or groin may swell. Fatigue, fever, and chills are some symptoms.
Fortunately, Hodgkins Lymphoma has a high survival rate, especially among patients to contract it before the age of 20. DeAnna explained that while the doctors use the same treatments for all stages of the cancer, there are side effects with potential for lung issues later in life. Jobe is on a trial program that uses a different type of medication at the end of the treatment that allows them to aggressively treat the cancer and avoid some of the other potential complications in the future.
Jobe's treatment plan includes undergoing six cycles of chemotherapy with the hope that it kills the cancer. "Victory would be being cancer free," Jobe said. Due to the trial, Jobe will continue to have follow ups for the next 10 years.
He remains optimistic about his chances, noting that the success rate on the chemotherapy is 75% following one complete round.
A cancer diagnosis is traumatic at any age, but for an otherwise physically fit 19-year-old college student, it is especially hard to deal with. Jobe has always been an active person playing football and basketball in high school. His brother, Abe, is a senior this year and his sister, Martha, is a sophomore and both are physically active.
According to Jobe, maintaining a good mental health has been more of a struggle than overcoming the physical hardships, especially given the roller-coaster of emotions as he was being diagnosed.
"I can't work out, I can't be active," he said, adding to this the COVID-19 issues everyone is facing of not being able to be with friends. Jobe said the strain of the treatments have forced him to put his studies on hold for the time being. He attends UW-Stout for mechanical engineering.
Because of his treatment he had to move home further separating him from his friends and girlfriend. Because chemotherapy weakens his immune system, even a normal seasonal flu could be deadly, so they have to take extra precautions about not bringing in illnesses. "He goes from home to the hospital to back home," DeAnna said.
A bright spot for Jobe has been the support he has gotten from people in the community including his high school friends who organized an online benefit on his behalf. He said he has gotten tons of cards and calls of supports and prayers — some even from people he doesn't know. "That has been really nice," he said.
In a normal year, Jobe would be able to have someone there with him when getting his chemotherapy treatment. With COVID-19, the cancer treatment center he goes to Marshfield Clinic Cancer Center in Stevens Point does not allow visitors to come in. Jobe's oncologist works at both the Weston and Stevens Point locations and Jobe made the choice to go to Stevens Point because it was smaller and felt more private with each treatment room private with its own bathroom, TV and lounge chairs.
"I was only able to go to his first two treatments and then they made strict restrictions with no visitors. It's heartbreaking to drop off your child to go into chemo alone. Even though I can't be in there with him, I feel blessed knowing that all the nurses treat him like their own," DeAnna said.
"At first I was very upset and emotional about not being an advocate for him while in treatment. But after Dr. Onitilo explained to me that he cannot risk visitors' exposure I knew it's just what I had to do to keep everyone safe. If the doctor or his staff got sick or caught COVID it would be detrimental. As not only Jobe, but all of his patients would not be able to be seen or continue chemo," DeAnna said.
Jobe is optimistic for the future and looks forward to the day when he will be cancer free and he can get his life back on track, hoping that will be sooner rather than later.