Posted on
LITE Foundation continues mission to give back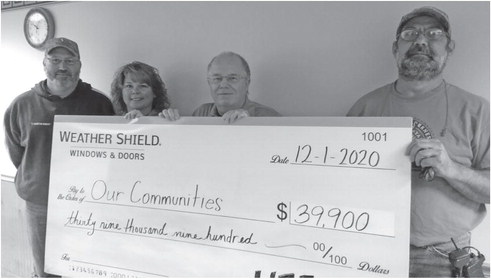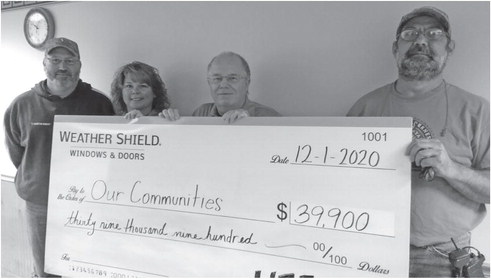 If you want to see what is important to an organization, look to its mission statement.
These statements are typically overflowing with lofty goals and flowery language, but they all boil down to what an organization believes is important.
The mission statement for the Weather Shield LITE Foundation reads: "The employees of Weather Shield are committed to helping people help themselves. Through gifts of time, talent and treasure, we believe that we can help improve the quality of life in the communities where we live and work. Through improved quality of life on a local level, we will be more able to impact the lives of others at state, national and international levels. Our efforts are guided by the teaching that, 'What you do to the least of my brothers, that you do to me.' (Matthew 25:40)."
LITE stands for Lives Inspired Through Employees. The foundation is run by a board including Weather Shield employees and a member of the Schield family. Employee committees decide all the grant allocation amounts.
"Even with the ups and downs of 2020, the Weather Shield LITE Foundation was able to give generously to our community and surrounding communities by donating over $39,000 to organizations in need and an additional $2,600 in contingency hardship requests,"stated allocation committee members in the letter announcing this year's grant recipients. They went on to express gratitude to the Weather Shield employees and the Schield Families for their generous donations, fundraisers and matching funds. "Without these contributions this would not be possible," committee members state.
Normally, each December the LITE Foundation would invite grant recipients to the Weather Shield corporate offices for the annual LITE Night where grant recipients share information about their organizations and causes. This year, due to COVID-19 concerns, that was unable to happen and organizations were notified individually.
The following organizations received grant awards from the Weather Shield Employee LITE Foundation in 2020: The Salvation Army of Taylor County, Taylor County Legion Baseball, Colby Post Prom, Abbotsford Post Prom, Frances L Simek Memorial Library, Taylor County Sheriff's Department, The Little Store, Edgar Child Care, Medford PAA, Community Mission with Jesus, Sand Box, Friends of Colby Library, Colby Community Library, Christmas Angel Project, Central Clark County Community Child Care, Abiding Care Pregnancy Center, Spencer Lions, St. Anthony's School STP, Spencer Kids Group, Rib Lake Athletics Booster, Rainbow Gymnastics, Tannery Creek Parkway, Northwoods Veterans Post, Holy Rosary School, Restorative Justice Circle of Joy Food Pantry, Community United Pantry, First Baptist Church Pantry, Good Shepherd Catholic Church Pantry, Indianhead Community Action Agency, Kings Community Food Pantry, NTC Foundation Food Pantry, Rib Lake United Methodist Church Pantry and Trinity Food Pantry.