Posted on
Hanson uses her handcrafted masks to help others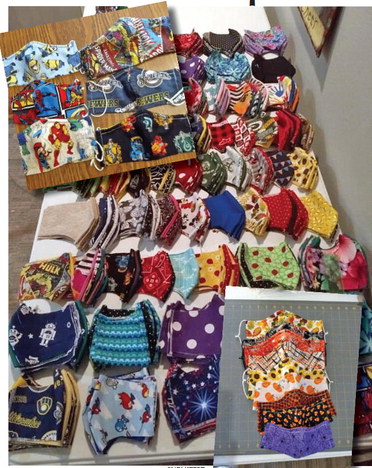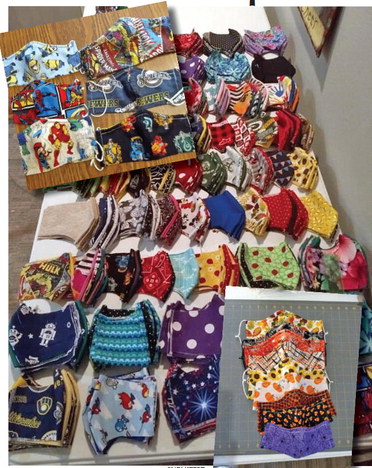 Like many people, Jane Hanson wanted to do something to help with the fight against COVID-19.
Last spring, after hearing and seeing first-hand among her coworkers the need for personal protective gear, Hanson put her sewing skills to work and started making masks.
Hanson said her initial plan was to help out her coworkers at Aspirus Medford Hospital where she works as an imaging radiologic technologist by making cloth masks for them. Hanson has been with Aspirus for 34 years; first in Wausau and for the past five years in Medford.
"When COVID first started, I thought I would help out staff and make cloth masks," she said. "Before I knew it everyone was asking me for them."
Hanson explains that she was approached by coworkers wanting to buy masks. "I just enjoy making them," she said.
Finally, she agreed to put a donation jar out designating the proceeds from the clothmaskstogotowardGiGi'sPlayhouse: Down Syndrome Achievement Centers with the goal of bringing one to northcentral Wisconsin. GiGi's Playhouse is a nonprofi t group that provides free services to children with special needs. The group is looking to open a storefront center in the Weston area. Hanson and her husband have a one-year-old grandchild, Corbyn, with Downs Syndrome, so the organization was close to their hearts.
So far Hanson has donated $4,000 from the proceeds for her mask making to the organization and the efforts to fund the Café G Kitchen at the center in order to promote entrepreneurship and independence for those living with disabilities in the community.
Hanson is also looking to help other efforts with her mask making. She has pledged to donate the next $1,000 raised to benefit Axetyn Kurtzweil of Stratford. In 2013, Cassie and Travis Kurtzweil lost a son, Treydan to leukemia. Now, their fiveyear- old son Axetyn has been diagnosed with leukemia.
Hanson said she was grateful to be able to put her mask making skills to use to help with these causes.
Hanson explained that when the first call was going out for the need for masks, she went online and researched it. She downloaded a pattern and has tweaked with patterns of fabric on the front and back, a space for people to add extra filtrations and a channel where they can put a pipe cleaner through to get a tight fit over the bridge of the nose.
She gets most of her fabric through area retail stores but has gotten a lot of fabrics donated to her by family and her coworkers. She recently had a patient ask her about the masks and offer to donate fabric as well. In addition to the masks, Hanson is also starting to make surgical caps. She noted there was concern about working with the patients and having the virus get into the hair of healthcare workers. The caps reduce those chances.
Hanson has lost track of the number of masks she has made guessing that it is "well over 1,000." After doing so many masks, Hanson said she has gotten to the point where a mask will take her 15 to 20 minutes to cut out and sew together.
In addition to having them available for coworkers, Hanson said she has been kept busy making youth-sized masks for children. For these she focuses on fabrics with patterns with popular superheroes like Batman or Superman as well as cartoon characters such as Elsa and Anna from the movie Frozen.
"The children really enjoy it," Hanson said, noting that by having a mask with characters they enjoy, having to wear a mask becomes less of chore and a chance to have fun.
Grown-ups are not above wanting fun masks to wear too, and Hanson said the Halloween-themed ones have been popular recently while over the summer she did many that were 4th of July-themed.